CouponSuck is supported by readers. By visiting our recommended sites, you support our maintenance and upkeep.
Nugg is an on-demand weed delivery service. It is quickly becoming the best way to buy weed online and then have it delivered within the hour. Use the Nugg promo code HAPPY20 for a quick $20 discount.
NOTE: If you are an Existing Nugg user, you can't use this code a second time. Instead, use this weed coupon locator to see a list of all coupons for other weed delivery places that deliver to your zip code.

---
Nugg Promo Code
Use the Nugg promo code HAPPY20 for $20 off your first Nugg order.
With the legalization of medical cannabis, Nugg has revolutionized the Uber for X marketplace. Their website is very easy-to-use. It's very mobile friendly. Currently Apple doesn't allow weed delivery apps, but this is the next best thing. They make it quick and easy to order weed on-demand. You can even to get approved for a medical weed card with a doctor on the spot (like 10 minutes).
Then you can peruse hundreds of products and dispensaries near you. Looking for flowers? Check. Edibles? Check. Smoking gear? You got it.

---
How does Nugg work?
Visit GetNugg.com to start your weed delivery service experience
Sign up for an account and enter your medical weed card details. Or, get a card quickly through their site doctors by clicking here.
Enter promo code HAPPY20 to secure your $20 marijuana credit.
Choose your desired varietals, add to cart, then checkout. You'll put in your location.
You can follow the path of your delivery agent as they make their way to you!
Woohoo!
Don't take my word for it, try it out yourself on their site: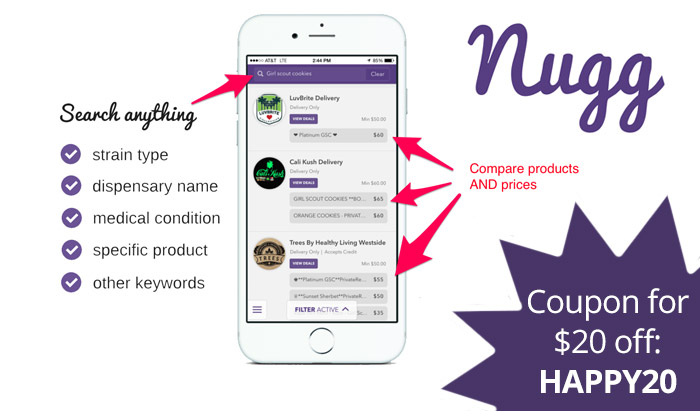 We're really digging this "Uber for X" economy, and are pumped that it extends to speed weed delivery! Let us know how it works for you!
Did you know? There are other weed delivery services that also have rocking promo codes at the moment. Get up to $200 in free weed credits here.