CouponSuck is supported by readers. By visiting our recommended sites, you support our maintenance and upkeep.
Azimo is a great money transfer service that lets you transfer money worldwide…through your phone! Use the Azimo promo code LUCYF for £10 FREE credit.
---
Would you Enjoy an Azimo Promo Code?
Get £10 FREE with your first Azimo money transfer when you sign up using the Azimo promo code LUCYF!
This is one of the better money transfer promos I've seen. And the Azimo promotional code LUCYF is your best bet, nabbing you £10 free with your first transfer.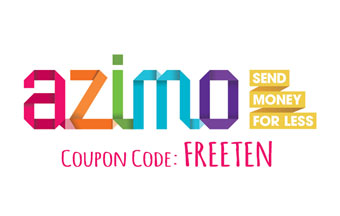 ---
Azimo Site Review (Azimo Erfahrung, Azimo Opinie)
I do a decent amount of money transfers around the world, so I was happy to do this Azimo Site Review. Time and time again, I promote Transferwise as the best way to transfer money internationally (plus they give you your first transfer completely free via this link), but I'm always open to testing my opinion. Never want to be too closed minded!
Right when you first get to Azimo, you are asked to enter your "from" currency and your "to" currency. The neat thing about Azimo is that it changes the "Delivery method" based on what country you're sending to, and the options that would be available in that country. Some of the options I hadn't heard of before, but I'm sure the people in those countries know how to use them (for example, in Albania "Cash pickup" is an option—and it's not an option in the US. I have no idea what a "Cash pickup" would look like here. Sounds very strange!)
On the next page you enter all your banking details, as well as the details of your recipient, based on what sort of delivery method you've chosen. You can even top up a pre-paid mobile using Azimo—pretty neat!
According to their site, the money transfer is nice and swift (a few days), and recipients shouldn't have trouble receiving their cash. And on the senders end, once you have entered all the info and pressed send, it should be free sailing (and you'll get your sweet free £10 bonus).
---
Give it a go and don't forget to let us know about your experience. And also don't forget to make use of the Azimo voucher code LUCYF