OrderAhead is the a great way to order pickup and delivery—at many of your favorite local joints.
NOTE: I suggest you try the DoorDash App first and see if you like it better. Once you've downloaded it, use the code PA30 for $5 in free food.
CouponSuck is supported by readers. By visiting our recommended sites, you support our maintenance and upkeep.
---
OrderAhead Promo Code 2016
Click the image below or this link to get free delivery on your first OrderAhead purchase. Be sure to check out DoorDash first, as their coupon code actually gets you $5 in free food.
---
Or Try UberEats:
Click the link below to learn more about UberEats. Or simply download the UberEats app on your phone and enter the code EATS-UBERHOTVALUE for $20 in free credit!

---
My OrderAhead Delivery Review
I gave OrderAhead a try via their iPhone app. You can download it by clicking on this link (and you'll get that OrderAhead promo code 2017 deal). It's a nice setup—a bit like DoorDash (my favorite, read my review here). It's very easy to find restaurants and food items.
I sped through checkout quickly, and chose the pickup option. I read some OrderAhead reviews online that said menu items are inflated for OrderAhead delivery. But if you choose pickup then the prices are the same as in-store, and there isn't an extra fee to use OrderAhead. So it's just a super easy and convenient way to order from your local faves!
UPDATE: I also recently noticed that a lot of the delivery places are no longer offering delivery. Not sure if OrderAhead only does pickup now, or what. Let me know your experience in the comments.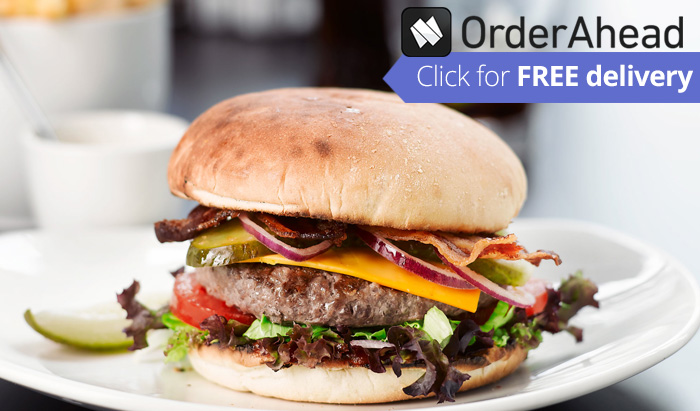 Food pickup is pretty much the same speed as if you called the restaurant and ordered. It obviously varies by how fast the restaurant normally is, but it seems quick overall. I ordered some delicious Italian food and it was from a fast place. I pretty much started biking over to the place as soon as I'd finished ordering on the OrderAhead App.
It was easy to pickup, and of course the food was delicious! I'd use OrderAhead delivery again.
---
How to Use OrderAhead
Head on over to OrderAhead delivery.  Use this link for the FREE OrderAhead promo code 2016 offer. Or you can download one of their apps (below)
Enter your location and find a nearby food joint
Add items to your cart, and select pickup or delivery
Pay online and wait happily by your door for your food!
---
You can also use the OrderAhead apps
As I mentioned, my favorite version of these food delivery on-demand apps is still UberEats. However, OrderAhead definitely gives them a run for their money. It also includes a lot of local places that aren't on DoorDash. Definitely worth checking out!