Farm Fresh to You will send a delicious box of produce to your doorstep every week. Plus, you can use the Farm Fresh to You Promo Code: CHRI3724 to get $15 off your first order.
$15 off Farm Fresh to You Promo Code: 

CHRI3724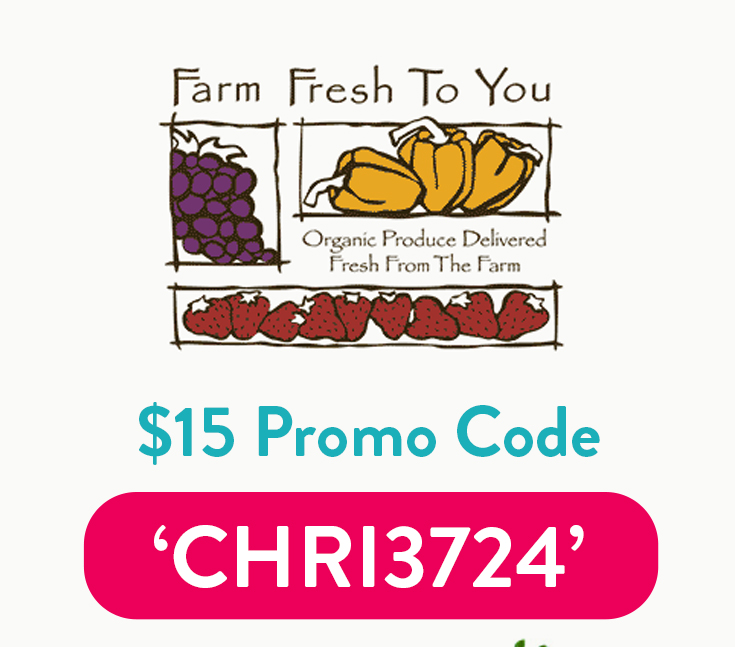 ---
Farm Fresh to You Promo Code 2018 (and 2019)
Farm Fresh to You is offering an amazing discount for new customers. If you use the promo code listed above, you'll get $15 off your first order. Which is a crazy amazing deal!
The best part is that this discount works two ways. Once you are a Farm Fresh to You customer, you'll be given your own FarmFreshToYou Coupon Code to share with your friends and family. Using your code will get them $15 off, and then each time one of them actually places an order, you score a $25 credit to future orders!
---
More about Farm Fresh to You
Each week, you'll get a delivery of local, seasonal fruits and vegetables to your door. You can start by choosing the type of box you want—all fruit, all vegetables, or a nice mixture of both. Then each week you can even customize the exact items in your box. So if you hate broccoli but love nectarines, you can replace any broccoli that's coming your way with a ton of nectarines if you want!
They also allow you to add on other local items, such as milk, nuts or eggs. What could be more delightful and delicious than that?
---
Again, use that FarmFreshtoYou Coupon Code
Let us know if you manage to use the FarmFreshtoYou coupon on your first order to get that $15 discount.
$15 off FarmFreshtoYou Coupon Code: 

CHRI3724
Plus, if you know of other awesome fresh local produce delivery places (especially ones that offer a discount), please share below! We are currently loving Imperfect Produce too (discount here), but they don't deliver to a ton of places.