CouponSuck is supported by readers. By visiting our recommended sites, you support our maintenance and upkeep.
The newest mattress on the market is now from EightSleep! Get $100 off with an Eight Smart Mattress promo code found using this link. An extra $20 discount code may be listed at the top of the landing page too.
You can also visit this page to learn how to get $70 off the Eight Smart mattress cover (if you already have a mattress).
---
EightSleep Mattress Promo Code
Get $100 off your EightSleep mattress through this link.  You'll see the $100 EightSleep Mattress promo code at the top of the page, and also during checkout.
NOTE: Sometimes you can add a second promo code to get an EXTRA $20 off. It will be Eight Sleep's own promo code, and if that exists you'll see it at the top right of the page (on desktop).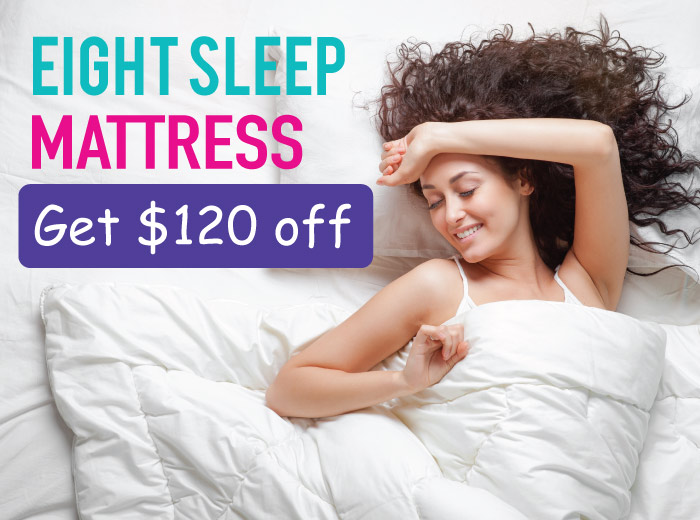 ---
About the Eight Mattress (Promo Code Details too)
I've already written a glowing description of the Eight Sleep mattress cover here. That is purely a mattress cover that you put on your current mattress. It records your sleep and helps adjust the cover temperature to ensure you sleep soundly.
But! Now Eight has come out with their own mattress, called the Eight Smart Mattress. Check it out here. It combines the technology from their mattress cover, and embeds it into a super comfortable mattress.
Once you receive it and unpack it, install their nifty app and connect it. Then go to bed as normal.
The technology in the mattress will record how you're sleep and how warm things get over time in a single night. Based on what it discovers, it will adjust the temperature of your mattress to keep you warm and snuggly or fresh and cool throughout the night.
If you're wondering what's up with the Eight mattress promo code deal, I'll tell you! They are happy to reward word of mouth. So when I share the Eight Smart mattress promo code link here with you, you get $100 off. But guess what? I get a commission, too. If you buy, that is. Win, win.
---
Eight Smart Mattress promo code
Once again, be sure to visit the EightSleep.com website via this link. You will see the $100 EightSleep Mattress promo code listed at the top of the page, in a purple bar. It should automatically apply during checkout, but write it down just in case it doesn't. Enjoy!