CouponSuck is supported by readers. By visiting our recommended sites, you support our maintenance and upkeep.
Chef'd delivers organic groceries and famous recipes from Celebrity Chefs to your doorstep. Choose as many meals as you'd like in a single week. Each meal comes with easy-to-follow instructions and ALL the ingredients. What could be easier and more fun? Click here for a $10 Chef'd Promo Code.
---
Want a Chef'd Promo Code?
Click this link to get a Chef'd promo code deal worth $10 off.

Be sure to visit via the link or the image above to redeem the $10. Then enter code CSK10 to lock in the discount.
---
My Chef'd Review:
Chefd gave us a free box to review, but our opinions are our own.
Chef'd is one of the latest and greatest companies in the meal delivery industry. In the past I've done reviews for Plated and HelloFresh. Both are subscription services that send you the recipe and ingredients. I decided to give Chefd a go, to see how it stacked against the other two.
I went to their website and signed up for an account, eager to become the next Gordon Ramsay. Ok, maybe not, but a cooking improvement would be good.
The most important part that Chef'd mentions is that their recipes are from famous chefs. You are getting industry secret recipes that can turn you into a gourmet chef at home. At least I hoped so.
Right away I noticed that Chef'd offers the option to buy individual meals. This is unlike HelloFresh ,where you have to get 3 meals per box. Chef'd also makes a point to include a variety of different diets, from Paleo to Vegan. Once you have added your meals to the cart, then you enter your home address.
Now comes the hard part. Chef'd has a bit higher a cost than HelloFresh—between $29-$40 covers one meal for two people. It's not the cheapest, but if you use Chef'd Promo Code link here for a $10 discount, it doesn't hurt the wallet as much.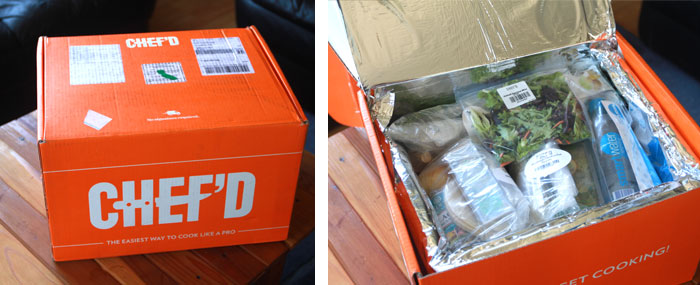 ---
Chef'd Delivery
Then you just wait for delivery and go about your week. It came as promised, in a lovely orange box with ice-packs too keep the meat and vegetables fresh. In our pack we even got free bubbling SmartWater, which I guess is a new product SmartWater is trying out. It was a nice little freebie.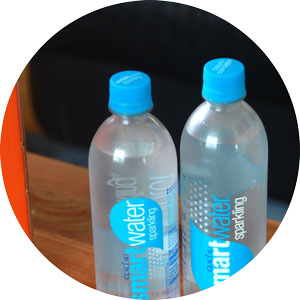 I think cooking is pretty romantic, so I tried to get everything nice for the night I knew Chef'd would arrive. Then my boyfriend and I followed each recipe (which were laid out very nicely) and made our dinner!
We cooked three nights in a row for the three meals we had purchased. We ordered the Chicken Tinga Tostados, Weeknight Chicken Pad Thai, and Thai Ginger Chicken. My favorite was hands down the Thai Ginger Chicken. It literally was better than restaurant quality.
The other meals were also delicious, but we did find the Chicken Tinga Tostados a bit too spicy for our tastes. The spiciness rating was only a 1/3, so we were surprised.
All the meals were TONS of food—we even had leftovers for a couple of them.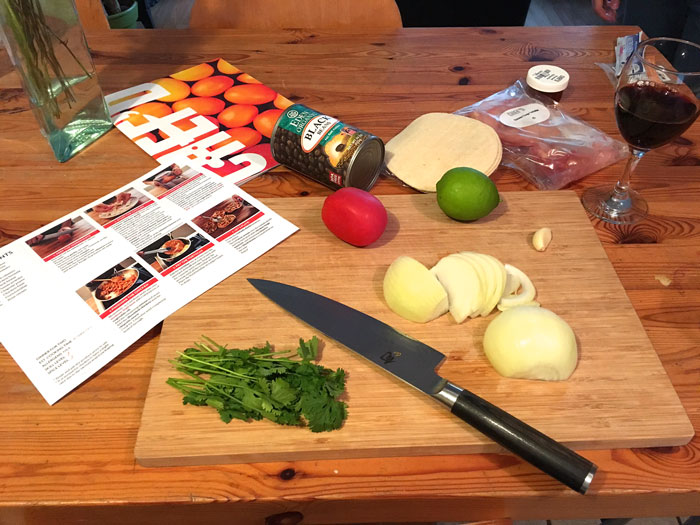 Overall, we had a great time cooking Chef'd meals with some wine. While the food may not have been as pretty as the real chefs make them, I think it tasted just as good.
---
With the Chef'd Promo Code LINK HERE giving you $10 off, I'd say it's worth giving Chef'd a shot.