CouponSuck is supported by readers. By visiting our recommended sites, you support our maintenance and upkeep.
Bring Me That is a great way to order food from local restaurants so that you don't have to go pick it up. Use the Bring Me That Promo Code D60666 for an instant $5 free.
---
Want a Bring Me That Promo Code?
The Bring Me That Promo Code D60666 is an easy way to get $5 off any of their hundreds of restaurants.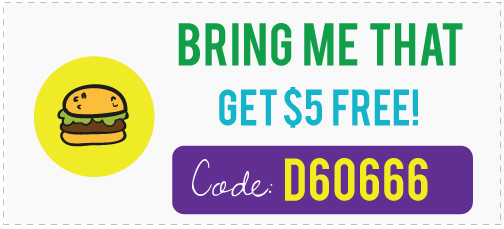 ---
My Bring Me That Food Delivery Review:
I was using DoorDash, another one of my favorite food delivery apps, when one of my friends told me about Bring Me That. Naturally I was curious, so I created an account on their site. I got the $5 dollars off using coupon code D60666. I added my address and it showed me all the restaurants around me. Normally I tend to prefer iPhone apps so I downloaded their app so I could use it on the go.
It is not the fastest app, but it had a lot of restaurants that Grub Hub and OrderAhead didn't. I found a burger place near me and looked through the menu until I found something I liked. A few of the items didn't have prices—which was a little weird. But the app said that the restaurant is responsible for that. I added what I wanted to my cart and clicked on the checkout button.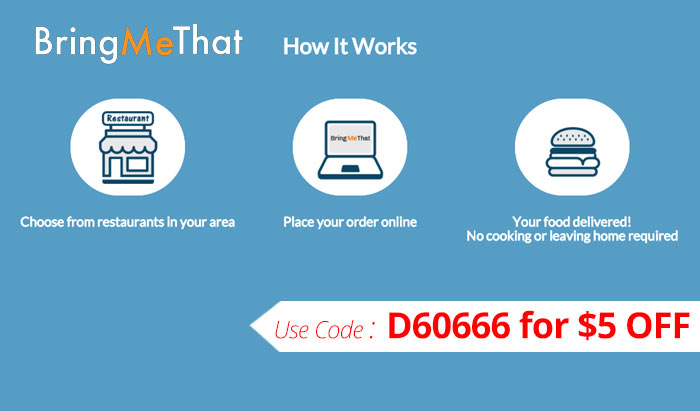 The checkout wasn't too complicated, and my free $5 made the price very reasonable.  Cheaper than the actual restaurant in fact. Then I just sat back and waited while the food was brought to me. It couldn't have been easier. I could have called the restaurant, but the Bring Me That  Food Delivery app made it easier.
Overall I had a good experience, though the DoorDash and Order Ahead apps are cleaner and easier to use. If either of those two apps don't have your restaurant, it is worth checking BringMeThat just in case.
---
How to Use Bring Me That Food Delivery:
Head on over to Bring Me That Food Delivery and use code D60666 for 

$5 off or download their app

Enter your location and find a nearby food joint

Add items to your cart

Pay online and wait happily wait by your door for your food.
My favorite app for food delivery on-demand would still have to be DoorDash, but BringMeThat has a lot of potential. If they clean up their app I think they could definitely find a place in the food delivery app market. Why not give them a shot, with the $5 dollar discount it will be cheaper than ordering directly from the restaurant.