CouponSuck is supported by readers. By visiting our recommended sites, you support our maintenance and upkeep.
Blue Apron sends you a box of ready-to-cook ingredients and healthy recipes, every week!
---
Need a Blue Apron Coupon Code? You have two options:
I can tell there is a general scramble on the internet to find the best Blue Apron discount available, and these are the best two options. Either get $20 off your first box with this link, or get 2 meals free. If you do the math—they're both of equal value, so you win either way!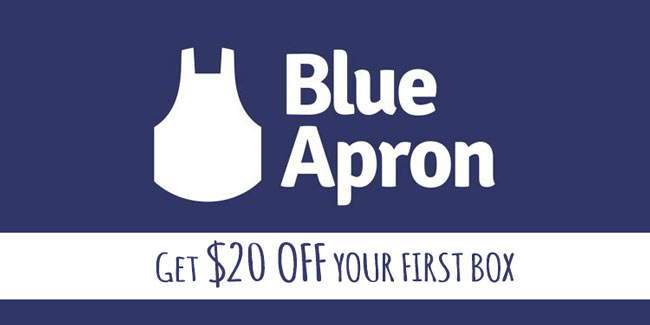 ---
Blue Apron Box Review (using a Blue Apron Referral discount)
I've been a longtime user of HelloFresh (code 6PP642 gets you $20 off), and really love the general pre-packaged meal ingredients in a box dealio that's all the rage right now. I mean, there are TONS of places available to choose from—Chef'D, Farm to People, Sun Basket, Plated, and of course HelloFresh.
But let's not forget the purpose of this Blue Apron Box review! To start with, I signed up for Blue Apron using this Blue Apron discount worth $20 off my first box. That lowered the price from $59 a week to $39 for the first week (still ouch, but less than HelloFresh at least)! NOTE: I paid for my box, and did not receive a free box from Blue Apron. 
$39 definitely isn't a bad deal for 3 meals for 2 (6 servings total). With HelloFresh I always found that each meal made more than 2 servings worth too, so I ended up with extra for lunch. I was curious as to whether this would be the case with Blue Apron too.
I was also excited by Blue Apron's claim that all the ingredients are from family-run farms. How cute!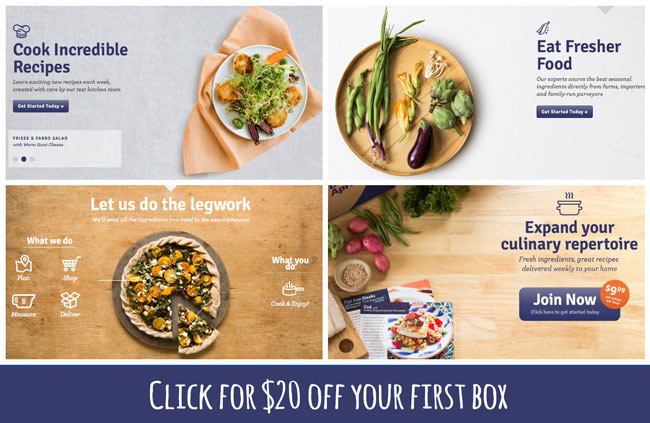 Anyway, I signed up and received my first box the following week. I loved the entire box-opening experience—they made it very cute while at the same time being professionally packaged to stay fresh. Nice work, Blue Apron! The recipe instructions even had color photos for each step, so it was easy to follow along and not make rookie mistakes.
The dishes were delicious as well. One was such a hit that I saved the recipe card and intend to try it again later, on my own. I'm interested to see how much the ingredients end up costing me at the regular grocery store.
Overall, very fun experience, and definitely at least giving it a try for a week or two, with that Blue Apron Coupon code link!
---
Don't Forget to Use the BlueApron Coupon Code:
BlueApron Coupon Code: $20 OFF with this Blue Apron referral link!