CouponSuck is supported by readers. By visiting our recommended sites, you support our maintenance and upkeep.
If you're looking for apps like Taskrabbit, look no further! We are big fans of Takl, which is a more streamlined task/chore app. Plus, use the Takl Promo Code 2018 deal '14F7B' to get 10% off your first booking.
Click here to try out Takl.
---
Takl, One of our Favorite TaskRabbit Alternatives
Takl is pretty new to the game, but they are expanding quickly. We think it will soon be the number one in the TaskRabbit alternatives arena.

Basically, with Takl you can find out the EXACT cost of a specific task, chore, fix, or odd job. Download the app and start looking for the task you want via category. You can find anything at all that you might want done. From everyday chores around the house, to personal assistant tasks. From home/office repairs to childcare or pet services. You'll see the exact price of the job, and then you'll be able to assign a Takl provider to the job. No need to worry about a varying price.
Takl started in the midwest in the summer of 2016, and expands nationwide in early 2017. So, if it's not in your area yet, it will be. And be sure to get started with the Takl promo code 14F7B to get 10% off your first Takl job.
---
Takl Promo Code 2017
As mentioned above, Takl has a Takl Promo Code 2017 deal, to get you hooked. Use the code 14F7B to get 10% off. Download the app here.
Once you've signed up and try it, feel free to share your own Takl code in the comments below.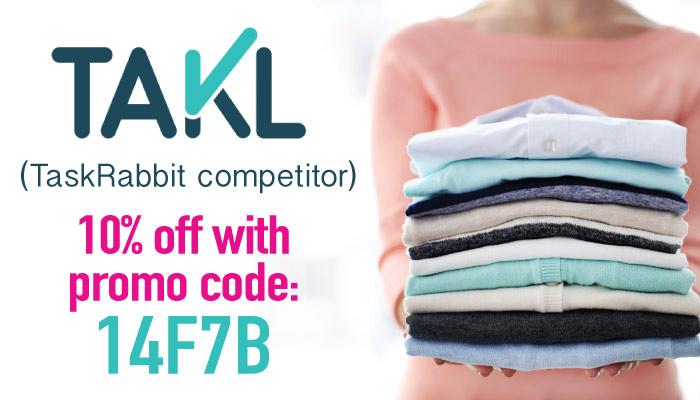 ---
Other TaskRabbit Competitors & Apps like TaskRabbit
While Takl is our favorite, it isn't the only one.
Handy is more focused on home repairs and home improvement and cleaning.
Fiverr has people who will help with graphics, videos, and other little fun web-based tasks.
UpWork.com lets you hire local or remote help. It's more for programming and computer-based help rather than in-person chores.
ThumbTack helps connect you with local pros for your house projects.
Tispr helps you find people with talents and skills to share. This is more about leisure activities, like music lessons, language learning, cooking, etc.
Know of other TaskRabbit competitors? Comment below, and feel free to include any referral codes you like!