Zola is a social wedding registry site that makes it easy to create your registry and share it with guests!
Click here for your Zola.com promo code link that gets you a $50 bonus (deposited once you create a registry).
---
Zola.com Promo Code: Get $50
Click here to get the $50 Zola promo code. The credit appears once you've created your registry!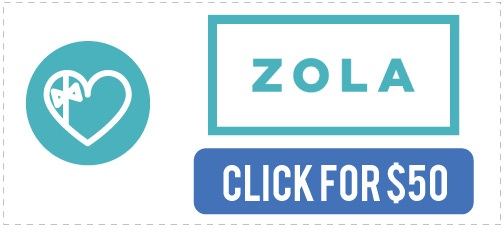 ---
Zola Review
None of us here at CouponSuck are getting married anytime soon. So we didn't quite know who the best person for doing a Zola review would be. But since I'm the only one you actually is already married, it made sense for me to be the one to do it. I went through a different registry website. We decided it would be a comparison between what I did, and what Zola now offers.
To start, the site I registered through (about 3 years ago), is no longer operating, so I can't recommend it. Overall, it was alright. They didn't offer anything like the awesome Zola coupon code link. But they did have great customer service.
Anyway, so I signed up using a Zola.com promo code and gave it a whirl. I found it super easy to sign up, and after only about 30 seconds my account was setup. Then I was guided through their Starter Guide. It helped me find perfect things to add to my initial registry. It's a helpful place to start. It gets all the obvious bits and bobs you're always going to want in there, right away. And then once you're done you can go through and add all your own favorite items that are particular to you.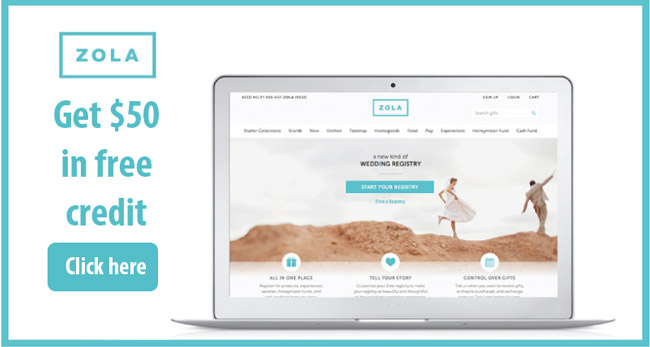 ---
Social Buying
The thing I liked the most about Zola was actually the social buying concept. You can put super expensive items on there (like a rug, or furniture), and not expect a single guest to buy it. Rather, guests can pitch in a certain amount to help buy you that item together. Like if 3 people put in $50, you get a single $150 item courtesy of all three guests!
It's definitely a wedding registry to check out. Especially with the $50 deal they're offering right now. Don't miss it!
---