Who Gives a Crap creates high-quality high-value toilet paper from 100% recycled materials. Plus, get $10 off your order when you enter your email on this $10 discount page 
Get $10 credit for Who Gives a Crap
Get $10 credit for Who Gives a Crap
This link works like a Who Gives a Crap Discount Code. Once you land on that page, it will ask you for your email address. When you enter it and click Apply, you'll receive the discount code unique to you. It should start with BestBudsUSA and then have a unique coupon code appended to the end of it.
Then, you can also refer your own friends with your own Who Gives a Crap coupon code link and earn additional $10 credits for every friend who buys!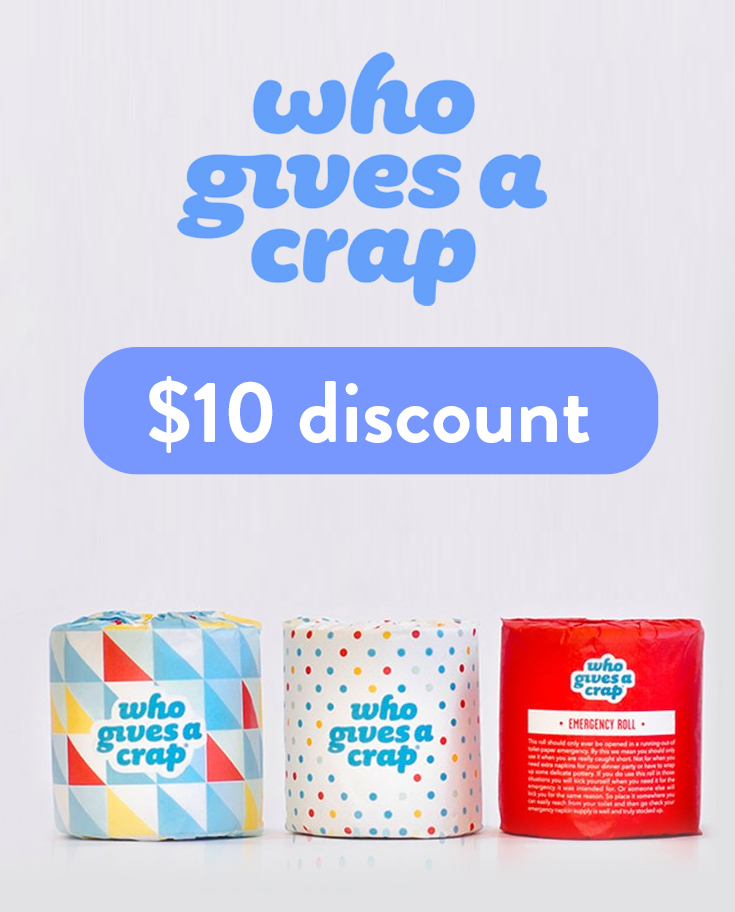 ---
About Who Gives a Crap toilet paper
The toilet paper at Who Gives a Crap is super unique. For one, it's made without trees! The toilet paper is 100% recycled, so you're doing a favor for both the environment, and for your bum. The cost per roll is about $1, so you also won't be breaking the bank. Lastly, a portion of their proceeds go towards building toilets for people who need them around the world, who don't have the same access that we do.
---
Dont Forget Your Who Gives a Crap Discount Code
The Who Gives a Crap discount code is valid through their refer a friend program. Basically, when I share my friend referral link with you, you sign up on their site, and then a unique Who Gives a Crap coupon code is revealed. You'll automatically get a $10 discount on your order. And when you complete your purchase (over $48), I will also get a $10 credit towards a future order at Who Gives a Crap. Woohoo!