CouponSuck is supported by readers. By visiting our recommended sites, you support our maintenance and upkeep.
Uber Rush Promo Code: Get A Free Delivery
If it's your first time trying out this new messenger service, use the Uber Rush Promo Code UBERHOTVALUE for a $20 Free Delivery. Pricing is low, and you can get something delivered up to about 6 miles for under $20. If you have access to an UberRush Invite Code, be sure to use it on your first delivery.
---
What is Uber Rush?
Uber Rush is a messenger service that picks up items you need delivered and take them to your recipient. You can request an UberRush right through the Uber app, if the service exists in your city.
Currently there is UberRush NYC, UberRush San Francisco and Uber Rush Chicago. Uber Rush hopes to open the service in new cities soon.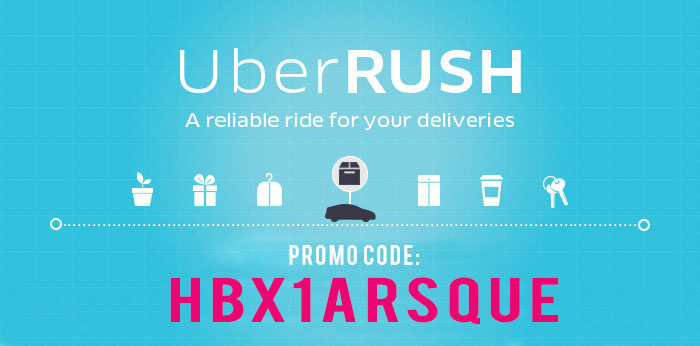 ---
UberRush Bike Messenger Service NYC
In most cases, depending on the size and distance your item needs to travel, delivery will be via car. But, it may be an UberRush bike messenger service in certain cities for small items. Pricing in NYC is $5.50 for the first mile, then $2.50 per extra mile.
---
UberRush NYC, San Francisco, Uber Rush Chicago, and More
The Uber Rush service is available in new cities, and is always expanding! For UberRush San Francisco, pricing is $6 for the first mile, and $3 for additional miles. For Uber Rush Chicago, pricing is $6.30 for the first mile and $1.80 for extra miles.
---
Some Uber Rush Service Details
Most delivery items are allowed via Uber Rush, but there are some that are not. You Can to deliver any item up to 50lbs (that will fit in a car), except the following:
Alcohol
Pets or animals
Anything illegal, stolen, or dangerous (duh)
You can check out the full Uber Rush FAQ here.