True and Co is a revolutionary bra and underwear company that helps you find the style that fits your body best. Plus, get $15 off your first purchase when you use this $15 discount link.
---
True and Co Discount Code
Get a $15 True and Co Discount Code when you sign up via this referral page.

You can also earn additional $15 credits by referring friends of your own. Each time one of them makes a purchase, you get another $15 credit to the store. It can add up to a free new bra!
---
What makes True and Co Special?
In order to sign up for an account on True and Co, you have to take a survey. It takes less than 5 minutes, but asks some really in-depth questions about you and how your current bras fit. I hadn't even realized how many ways there were for my bra to fit (and not fit)!
For example, it takes into account whether you use the tightest or the loosest hook on the back. And in the center of the bra (where the two cups connect), you may not realize but for some people that center part is completely flat against their body, for some the top part is loose and the bottom is fitted, and for others the middle part doesn't touch them at all (I'm the middle version).
There are also 4 different ways your breasts can "hang", and True and Co even can take into account if your breasts are two different sizes, which is apparently common in 40% of women!
At the end of the survey, the website recommended three different bra types based on my answers. It's nice feeling confident that I'm choosing something that would work for me specifically. A lot of the times in other stores you'll choose a bra that is your "size" (e.g. 36B) but when it arrives it doesn't fit at the sides, or the straps cut in, or it just makes you look lumpy.
Definitely give it a try! And don't forget to use this link to get $15 off your first purchase.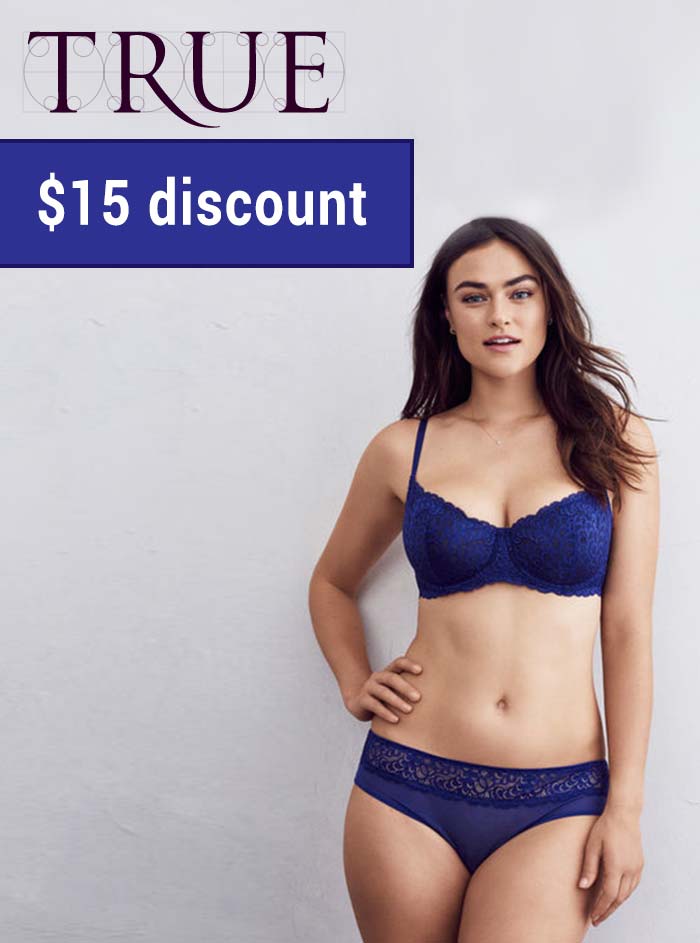 ---
Other Bra Companies I Love
Until finding True and Co, my favorite bra company was Wear Lively. However, their bras are a bit more suited to smaller cup sizes in my opinion—so I'm really happy to have found True and Co!