CouponSuck is supported by readers. By visiting our recommended sites, you support our maintenance and upkeep.
Trove is an online marketplace for used furniture, much like Craigslist or AptDeco.
Click here to get $5 off with a Trove Market coupon code link. Update: This is a verified code, as of February 2017.
---
Trove Market Coupon Code
This Trove Market coupon code is more of a coupon link, which will give you $5 to use on the Trove Market site or app. It's a small discount, but is the best they offer (and hey, something is not nothing, right?). Click here to use it.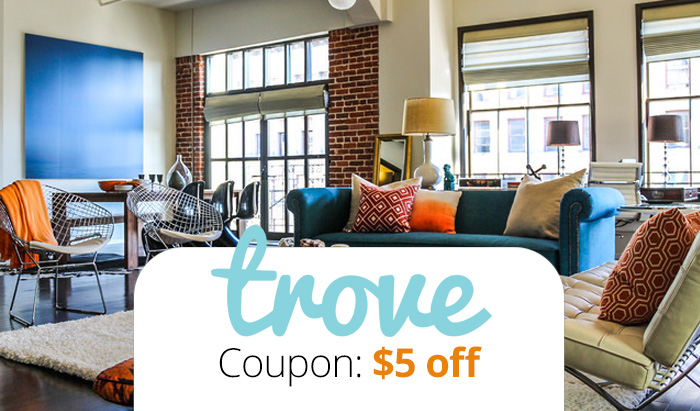 ---
Trove Market Review
I've been a big fan of AptDeco ever since I found out about it, so of course was eager to find similar used furniture apps.
My first impression of Trove wasn't the greatest. I think partly because of how enamored I am with AptDeco. But also partly because when I think of buying used furniture I think of the simplicity of craigslist.
True, Trove Market has a bit easier a layout than craigslist. Everything shows large photos of the items you're looking to buy, as well as the price. However, the layout of Trove Market has more issues than it does improvements. When you are actually viewing a single item page, the images take ages to load and sorta overwhelm the page. And a large portion of the information is taken up by the user's avatar (who cares?).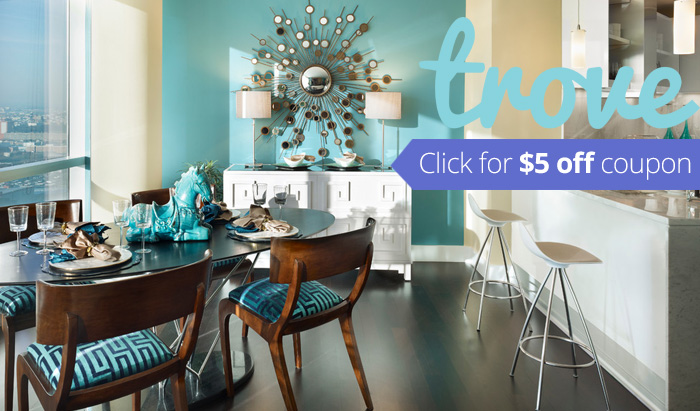 You can make offers to people directly through the app/site, which I do like. It's simple and cleans up the whole craigslist process.
I wish I could say I could review the actual purchasing process, but unfortunately I couldn't find anything I wanted to buy.
It's a new site so is pretty empty—understandable. But the part I didn't like is that a lot of the site is filled with stores selling stuff. Tip: If there is a white background, it's probably sold a store). I know craigslist does this too, but you can at least filter it out using the "By Owner/By Dealer" function. Some improvements could be made there.
---
How to sell furniture on Trove Market
This part is super easy, and I am a huge fan of it.
Head on over to UseTrove.com
Click the Sell button at the top
Enter the details of your item, really simply and easily
Enter a price, and you're done!
Intrigued? Head on over to UseTrove.com (this link gets you the $5 credit) to give it a try, and let me know your review when you do!