CouponSuck is supported by readers. By visiting our recommended sites, you support our maintenance and upkeep.
ThreadLab is a men's fashion website with technology that helps you choose clothes that are right for you. It's like a personal shopper, but cheaper. Additionally, it offers one-off fashion item purchases, as well as monthly subscription boxes.
And, get 20% off your first order (plus free shipping) when you visit Thread Lab via this link.
---
ThreadLab Discount Code
Use this link to score 20% off your first order at Threadlab.com. You should land on a page that tells you your promo code for 20% off has been automatically applied to your cart.
Woohoo!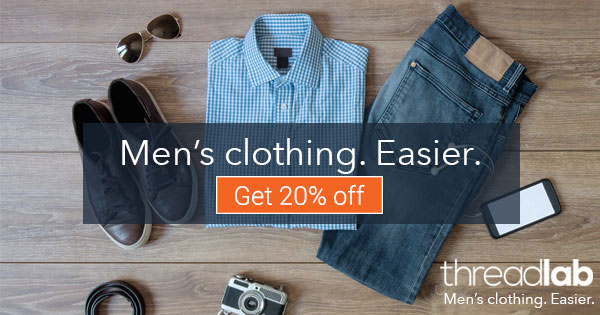 ---
More about ThreadLab's Personal Shopping Experience and Subscriptions
When you first arrive at MyThreadLab.com, you'll be asked a series of questions about your style and sizing. It takes about a minute. At the end, you'll be prompted for your information to create an account.
The site then recommends products for you based on what it now knows about you. Based on how you respond to those options, it will learn what you like better and better. There is no requirement to order at any time, and you aren't locked into any subscriptions. You can choose when, what, and how you want to receive your new items.
If you do want to try out a subscription, they have a couple of cool options available. You can get the Starter Box, which starts at $99, and contains 2-4 items. Next up is the Essentials Box, which starts at $149 and contains 3-5 items. Lastly, the Full Kit Box starts at $299 and contains a whopping 5-8 items.
Plus, they offer free shipping and free returns, so there's literally nothing to sweat.
---
Again, the Thread Lab Promo Code
So as you may have noticed, it's not exactly a ThreadLab discount code, but more of a discount link, that scores you the 20% off. But still, it works just the same. Click here to get your 20% off.