CouponSuck is supported by readers. By visiting our recommended sites, you support our maintenance and upkeep.
Rush49 is a place to book unique experiences and activities, for less. It's like Groupon, but less frustrating! Click here for a Rush49 coupon code discount worth $10.
---
Save More with a Rush49 Coupon Code:
You must click here or the button below to receive the $10 discount. The discount is automatically applied through the link.

It's similar to a Rush49 coupon code in that it will score you the $10 discount without needing a code. It's the best deal on the web, and relies exclusively on their referral program. Meaning each time you earn $10, I earn $10 credit too. Win, win!
---
My Rush49 Review
I used Rush49 recently to book an Escape The Room adventure game. Specifically, it was the Omega Room at Omegascape in the East Bay (Richmond). I had found the game through Yelp, and it had gotten great reviews. Based on the Omegascape website, the room was going to be $28 per person to book a 6 person room.
I had a little peek around and discovered Rush49 (including the Rush49 coupon code). I'm glad I did—the same 6-person room was only $21.50 per person!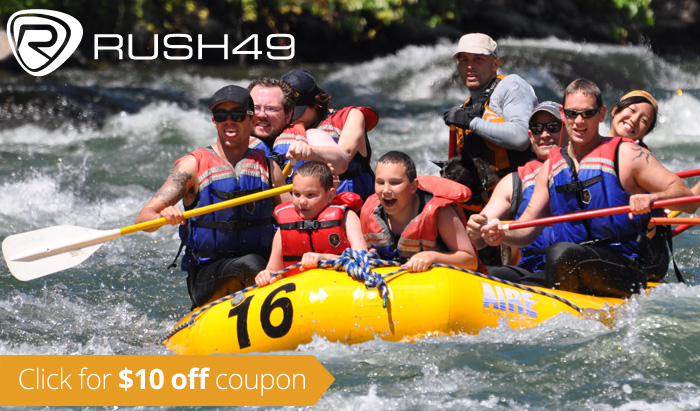 The worry I had was that it wouldn't be easy for me to book the room using my discounted tickets. This has happened enough times with Groupon for me to never use them again. With Groupon sometimes the business makes you wait a certain number of weeks before you can book. They give their best days away to non-coupon users, etc. Plus you have to call the place to make a reservation instead of using their online form.
But for Rush49 that wasn't the case at all! I bought the Rush49 certificate. Next I was taken to an easy instruction screen specific to Omescape that told me how to make a booking. I entered my coupon number, and didn't have to re-enter credit card details or anything. There were no blackout dates at all. I chose the exact date I wanted to. We were ready to go! Phew!
The actual escape room was pretty fun. I've done much much better ones, but it was their entry-level room so perhaps we need to try the other ones!