CouponSuck is supported by readers. By visiting our recommended sites, you support our maintenance and upkeep.
Reserve is a dining concierge app that allows you to reserve a table at nice nearby restaurants. It also takes care of the bill at the end—much like Uber and Lyft.
UPDATE: There is no longer a working Reserve Promo Code. We recommend trying the Velocity App out instead, which is very similar and gets you $5 free with the promo code DINEOUT1.
---
Reserve Promo Code:
There is no longer a promo code for Reserve

. Get $5 off your VELOCITY APP with the promo code DINEOUT1.

Most of the restaurants on their app are on the fancier side. But you can also just make a reservation and have a couple of drinks. So this Reserve App promo code could actually cover a nice little outing!
---
How Reserve works:
Sign up for an account and enter your billing details. Don't forget the Reserve promo code EJ4HOF (to get that $20 credit!)
Make sure your location services is on, so Reserve can find fancy dining places near you.
Choose a restaurant
Choose a time and enter your party size
That's it! Show up to the restaurant at your reservation time and have a lovely evening. At the end rest assured that you can just get up and walk away, with the bill completely paid through the app!
---
Reserve Dining Concierge App Locations:
New York City
Los Angeles
Boston
San Francisco
Chicago
I'm in LA and have been really pleased to see restaurants on there all across the city. I've used the Reserve App before an evening at the theater (using my handy TodayTix app promo code PYPRS), and can always find a Reserve restaurant near where I'm going. Plus, they're adding new restaurants to the app every week!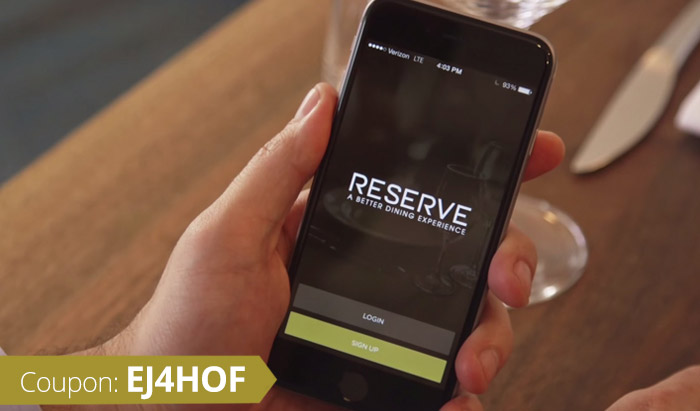 And I forgot to mention! You can even split the check with your friends, through the app—so you still don't have to take out your wallets at the end of the night. It makes dining out such a breeze, I can't support Reserve enough!
Reserve Promo Code: No longer exists