CouponSuck is supported by readers. By visiting our recommended sites, you support our maintenance and upkeep.
With a Pairchute membership, you get secret deals on food, drinks, and fun all month around LA. Get $5 off your first month with the Pairchute promo code HAPPY5. Click here to try Pairchute.
---
Pairchute Promo Code
We have an exclusive Pairchute promo code for $5 off your first month (that's 50%)! Use the Pairchute access code HAPPY5 to score the deal.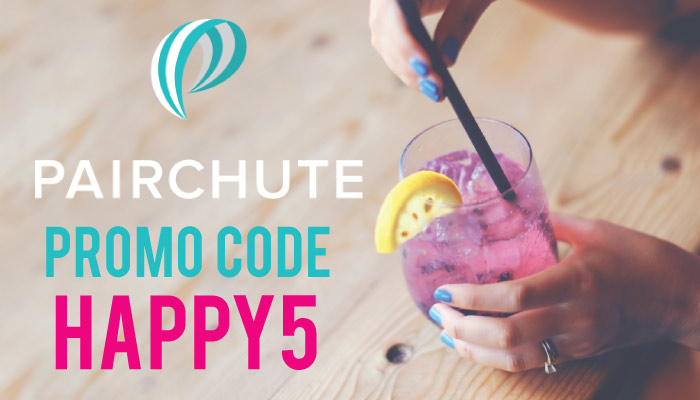 ---
What is Pairchute?
Pairchute is an awesome new way to check out local spots around LA. Every day the Pairchute app has exclusive discounts on food and drinks, just for members. Most are currently located in Downtown LA, but the app is expanding their offerings and will soon expand to new cities.
You DO have to pay to get access to the deals, but it's only $9.99 a month. And we actually have a Pairchute promo code available, which is HAPPY5. Enter it during membership signup and get the first month for only $5.
---
Deals on the Pairchute App
The awesome people at Pairchute are constantly adding new deals to the app. So far I've seen everything from:
Completely free drinks (no strings attached)
2 for 1 deals on drinks
Free drink with an entree purchase
Free appetizer with a drink purchase
Happy hour cocktail prices at non-happy hour times
Free winery wine tasting flight with bottle purchase
Complimentary coffee/tea/lemonade with food purchase
Free appetizer with meal purchase
10% off entire order
Free dessert with meal purchase
Basically they have enough offers to choose from that you can live like a king…on a shoestring.
---
Pairchute Access Code
Again, don't forget to use the Pairchute access code HAPPY5 during membership signup. You'll get your first month for only $5. That's 50% off!
Then you can give the Pairchute app a really good spin and see if you want to commit for another month. We're betting that you will.