CouponSuck is supported by readers. By visiting our recommended sites, you support our maintenance and upkeep.
MysteryVibe offers a unique vibrator that can bend and vibrate in a custom way. Get $40 off your Crescendo vibrator from MysteryVibe by visiting this link.
---
MysteryVibe Discount Code: $40 off a Crescendo Vibrator
We have an exclusive MysteryVibe discount code that will get you $40 off (so it'll be $159 instead of $199). Click here to activate it. 
This will also give you free shipping around the world. It's a discount not to be missed!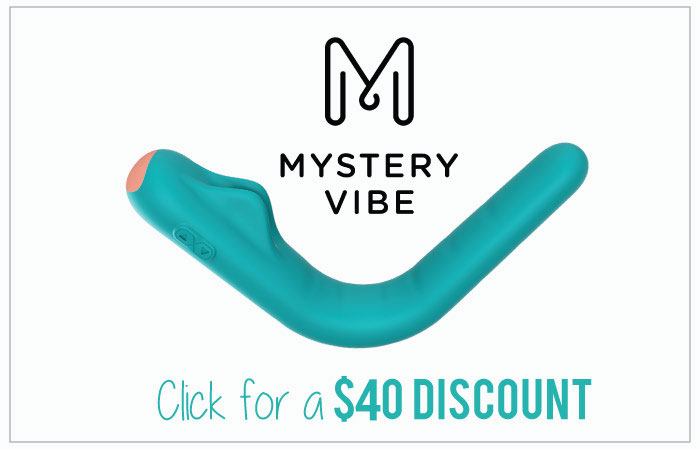 ---
Details about MysteryVibe's Crescendo Vibrator
MysteryVibe has spent a lot of time and energy into coming up with the ultimate vibrator for female pleasure—the Crescendo. At first glance, it looks a bit like a tongue.
It has a ton of really badass features: It has multiple micro-motors all along it's length. It's waterproof. You can bend it in all sorts of ways. It can charge wirelessly (it comes with a charging pad). Little bonus: It comes in a really cool, subtle luxury black box. And it can handle varying intensity levels.
But my favorite feature is definitely the ability to hook up to the Crescendo MysteryVibe app (via Bluetooth) and vibrate to your choice of sweet tunes. MysteryVibe even has it's own Spotify Playlist (see below). Say what?!
Ps. Want to read a full review? Check out my full review on TopDown Reviews here.
---
The MysteryVibe Spotify Playlist
This is a seriously awesome feature. MysteryVibe has created an app and a Spotify playlist that connect to your Crescendo vibrator via Bluetooth. You can set up the Crescendo to pulse along with your choice of music vibe (get it?). So you can find a musical mood to fit how you're feeling, and your Crescendo will pulse along in time.
Be sure to get the MysteryVibe Crescendo vibrator at a $40 discount by visiting through this link.