CouponSuck is supported by readers. By visiting our recommended sites, you support our maintenance and upkeep.
MyHabit is a fashion website that hosts daily "events" with huge savings on clothing, around 60% off. It is sorta like a flash-sale section of Amazon.com. Click here for $20 credit.
---
MyHabit Coupon Code 2017
MyHabit Coupon Code (old): get $20 credit plus free shipping when you click here
Update: MyHabit is now shut down, and owned by Amazon.
Turns out you don't actually need a specific MyHabit coupon code. But rather you need a referral link like the one above one to get that $20 credit.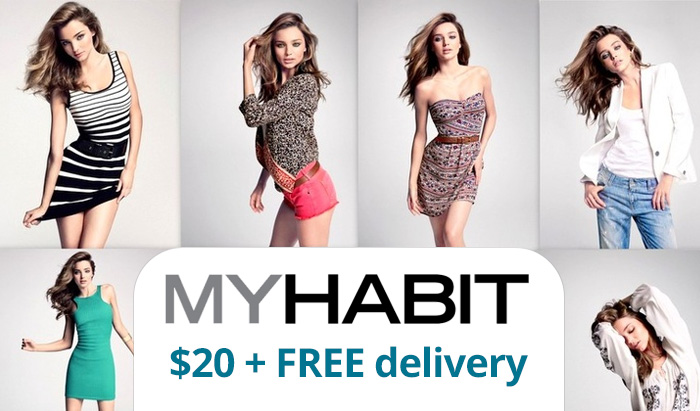 ---
MyHabit Review
I kinda hate clothes shopping. One, because I'm lazy and it involves going to multiple stores. I mean, you are taking off your current clothes, putting on new ones, taking them off, and then doing it all again and again. So I've been an online clothes shopper for awhile now.
MyHabit appealed to me because it was a sister company to Amazon.com. Which is where I buy most of my stuff already. It's easy to navigate, the review system is decent, and you never have to fight for returns. MyHabit is the same.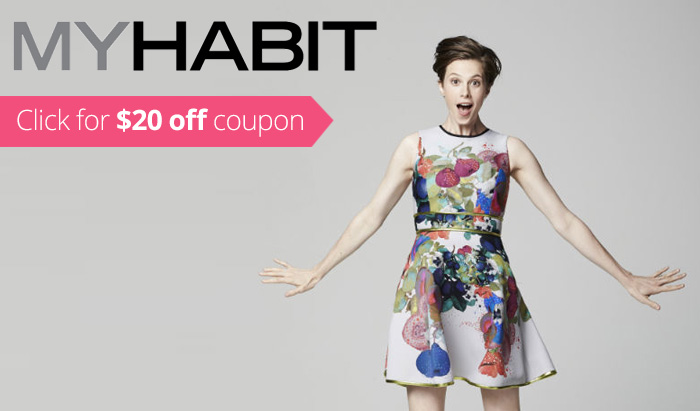 The added bonus is that each day, they reveal daily "events", which involves a sale on a certain type of clothing. Today for example, for women there are events for handbags, party dresses, some weird 90s-looking tennis shoe thing, and boots. For men there are some suit events, dinner shirts, and dress shoes.
It looks like checkout is a breeze (I haven't actually ordered yet). It uses Amazon's payment system. If you're already an Amazon user, all your information is already there!
Like Amazon, the package should arrive super quickly.
Overall it's a really simple way to narrow down selection and not get overwhelmed when clothes shopping online.
---
MyHabit apps for easy shopping
With the $20 MyHabit Coupon Code credit, you have to spend over $50 to be able to apply it. But that's pretty sweet, it's almost 50% off of the already discounted prices. If you're planning to buy some new clothes on Amazon, might as well hop on over to MyHabit and give that a try with the credit instead. You may be hooked!