Candy Club is exactly what it sounds like. It's a monthly candy club, which sends premium candies to subscribers every month. Click here to get 50% off with this Candy Club Coupon Code link.
CouponSuck is supported by readers. By visiting our recommended sites, you support our maintenance and upkeep. This company sent us a free product to review, but our opinions are our own.
---
Candy Club Coupon Code
Try out CandyClub at a 50% discount (plus FREE shipping) with a Candy Club coupon code link by clicking here. Make sure it's your first time visiting candyclub.com or the popup might not appear.
NOTE: This is the best offer on the market right now, for 50% off your entire first order, and free shipping. We think it's enough of a deal to be at least worth giving a month of candy a try!
---
About the Ultimate Candy of the Month Club
Just for some quick details to get you understanding how it works. Subscribe to one of two main subscription types: the Custom Box or the Curated Box. Both are available in Month to Month, 6 Month, or 12 Month subscription lengths. The 12 month is the cheapest option at $19.99/month, and the Month to Month is the most expensive, at $27.99/ month.
The Custom Box
The Custom Box lets you mix and match your own candies each month from a huge selection of candies. You must enter your zip code, as some of the candies are only available in certain areas (and they want your candy to arrive fresh!). You then select three candies to fill your box with.
The Curated Box
The Curated Box is more of a surprise—the fine folks at Candy Club will pick your candies each month. Within the Curated Box subscription, there are three unique options for taste profiles. You can select either: Club Sweets, Club Sours, or Club Mixed.
Then you can sit back and await a completely surprise box each month.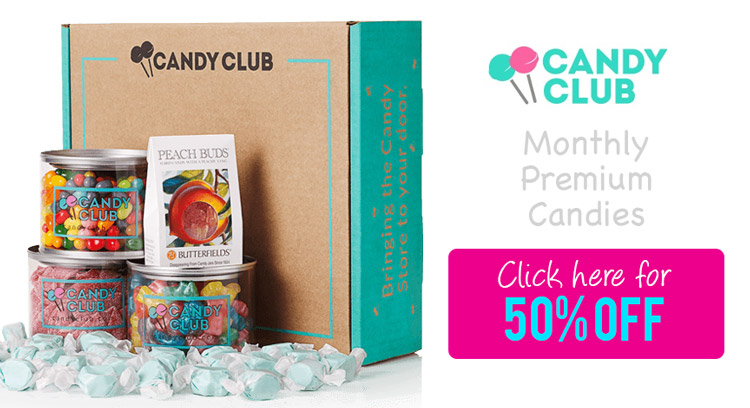 ---
Candy Club Review
To start with, what's not to like? The whole concept is delicious, fun, and childlike—all the things that I love. So doing a Candy Club review was definitely an appealing concept!
I was given a code by Candy Club for the purpose of this review, and ordered a Custom Box. I do love love the concept of the surprise Curated Box, but I'm always down to pick what I like.
If I were to buy a full subscription, I would of course take advantage of the 50% off + free shipping deal (click here for it). It would make each month only about $12.
I'm halfway through my Custom Box, and I'm loving it. Shipping was so so fast. The packaging is out of this world. The candies are phenomenal. I got some black liquorice that everyone in my house hates, but I love. Which is perfect—more for me!
I think if I signed up for a full subscription, I would hoard each box for a little while. Probably until 'Girls Night', which is when a few friends come over and we usually watch The Bachelor, every week. And cook dinner together, and drink wine. We could open the Candy Club box together and go crazy. Too fun!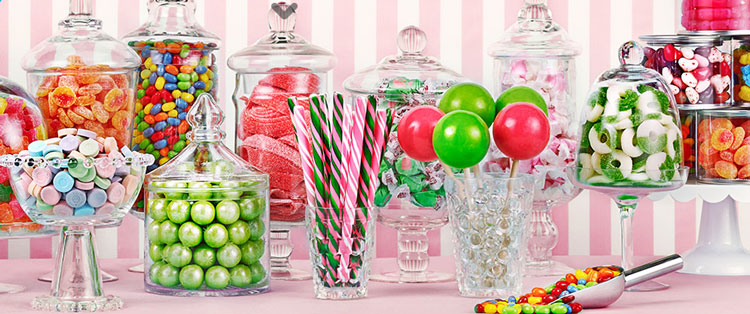 As I mentioned, the packaging is too cute. The boxes are a lovely teal color, with little jars adorably nestled inside. The whole thing creates a crazy atmosphere of excitement.
There is always a little card that tells you about each candy. And the cutest part is that there are ALWAYS wrapped bonus candies, littered around the box as if they were packaging peanuts. I've mainly seen saltwater taffy, atomic fireballs, so I think those are the main ones they use. But how cute!
The candy is delicious. It isn't a TON of candy, but what adult really wants a ton of candy anyway? Who needs that guilt? This is a better subscription for those that favor quality over quantity, and don't want to feel sick at the end. These candies are high quality!
Between me and three girlfriends, we could eat an entire package in a night. It would be a little excessive of us. But it'd be our treat night. So hopefully that gives you an idea of how much candy it is.
Anyway, to summarize: I LOVE the Candy Club. Not that I've tried many, but it's my favorite Candy of the Month Club, by far. Check it out at candyclub.com (this link works the same as the Candy Club coupon code link I mentioned).
If you aren't the candy person, think of someone you know who might be. This definitely would make an ideal gift for birthdays, random gifts, or pick me ups, for friends and family alike.
---
Don't Forget that Candy Club Promo Code
It'd be silly not to make use of the 50% off + free shipping Candy Club promo code that's on offer right now. Click here to use it.