JetSuite allows you to book seats on short-distance chartered flights between small airports in the Southwest! Get a $20 credit with the JetSuite promo code SK1PQO.
Click here to sign up for an account.
---
JetSuite Promo Code
Get $20 free credit when you use the JetSuite promo code SK1PQO during signup. You can apply the discount at any point for any flight you like. With one-way tickets starting as low as $29 one way (that's the flight between Santa Monica and Carlsbad), you can't go wrong.
I do feel like I saw that you can only use the credit on flights over $129, but I can't find that stipulation again. I just have a hunch I saw it. If you find out if that's true, let me know in the comments below.
---
What is JetSuite?
JetSuite is an awesome site for booking seats on chartered jets. Flight prices are SUPER reasonable, and you save time by flying through smaller airports.
When I first found JetSuite, I was sure I was in the wrong place. I assumed all the flights were for wealthy people, or for fancy businessmen. But the prices made me look twice. I mean, a flight to Vegas from Santa Monica was only $99 one way. That is not much different than the price on Southwest from LAX—and it'd be a ton less hassle (and faster)!
Currently, it looks like they only serve a few airports:
MONTANA
NEVADA
CALIFORNIA

Burbank
Carlsbad
Concord
Mammoth Lakes
San Jose
Santa Monica
However, I personally live pretty near Santa Monica airport. I've never actually taken a commercial flight out of it before, so I have my eye on the Vegas flights. Might be going there sooner than I'd planned!
---
The JetSuite Refer a Friend Program
I actually found out about JetSuite through someone I was following on Instagram. They shared an image with their JetSuite promo code on it (like the one above). Intrigued, I checked into what it was and was pleasantly surprised. Plus, they had a refer a friend program that allows you to earn additional $20 credits for every new friend who signs up and books a flight!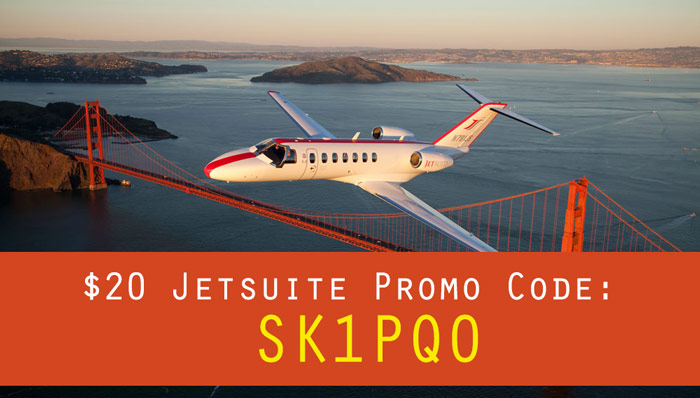 ---
Other JetSuite Deals
First, use the coupon code SK1PQO.
Every JetSuite flight comes with some amazing perks. For one, all seats come with business-class legroom and leather seats. There is free Wifi and inflight entertainment. You have access to complimentary gourmet snacks, as well as drinks—like wine, beer, or cocktails. Say what?!