CouponSuck is supported by readers. By visiting our recommended sites, you support our maintenance and upkeep.
Filld is an on-demand gas delivery service in the Bay Area. They bring the gas station straight to your car. Use the Filld Promo code 7YRJ for $15 off.
Need gas in Los Angeles? Use the Purple Gas App and enter the promo code B4TFZ for 2 free gallons.
---
Filld Promo Code: $15 off your Filld App Gas Delivery!
Use the Filld promo code 7YRJ for $15 off your first order. It is a better deal than Filld's Los Angeles counterpart, Purple. They currently give out $5 discounts to new users (see here for discounts).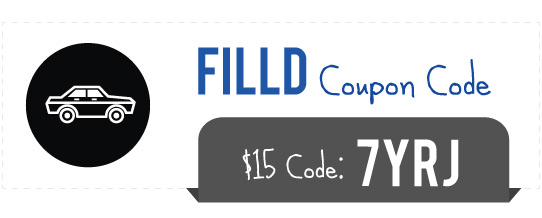 ---
My Filld Review:
We have a lot of experience using the Purple gas app in Los Angeles (which we love, read our review here). But we hadn't ever given Filld a try. So we thought it was time for a Filld Review for those readers who are interested. Filld is the main on-demand gas delivery in San Francisco.
First off, Filld is a beautiful app to navigate. Download it and roam around if you don't believe me. If you aren't in their delivery area, it will help show you exactly where their delivery area is. Once you're in the area and are ready to get your gas filled up, simply park your car and make sure your gas cap is unlocked.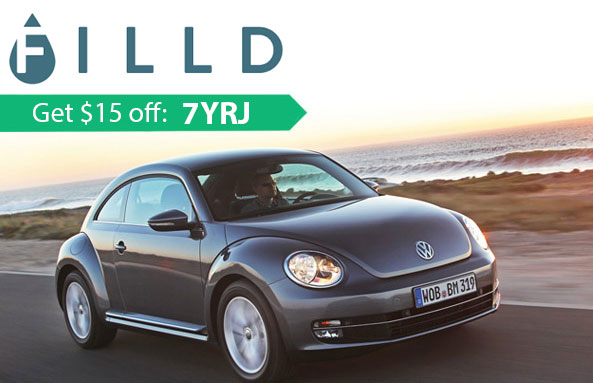 Then place your order on Filld. Be sure to use the Filld promo code 7YRJ to get your initial $15 off (what a steal). Once you've confirmed the order, what you'll next do is….walk away from your car. Go relax at home. Or at the office. Or get a cup of coffee, or lunch. When you come back to your car, your car will be filled up, period. You won't have lifted a finger (beyond the finger used to press "Fill up my car" back in the beginning).
Simply drive away, with a full tank! The gas fairies have already come and gone 🙂
Don't believe me? Give it a try with the code below—or if you're in LA, try Purple here.
---
Don't Forget to use the Filld Coupon Code:
Use the Filld coupon code 7YRJ for $15 off!