CouponSuck is supported by readers. By visiting our recommended sites, you support our maintenance and upkeep.
DoorDash is an on-demand food delivery app, and a great place to get a job. Plus, earn a quick BONUS $50 by signing up via this link!
---
Door Dash Jobs as a Driver: $50 BONUS 
This is a $50 DoorDash driver bonus you can only get via a DoorDash referral link like the one above. It has to be from someone who is already a Dasher (like me). It's a great deal—a sweet $50 extra when you complete 30 rides in 30 days. It's not too hard—you can easily do 6-8 deliveries in a day. So you can knock this DoorDash driver bonus thing out of the part in as little as a week!
---
My Door Dash Review
(My DoorDash Job as a Dasher / Driver)
I came across a Door Dash jobs posting back on craigslist a few years ago. There were a few different job options, but mainly they were heavily recruiting DoorDashers. These are the people that do the actual deliveries for them. They suggest that you can earn up to $25/hour, and offer occasional bonus bumps for really busy periods of time.
It wasn't too hard to get signed up. I had to apply then wait for my application to be accepted. At this point I was invited to attend an orientation at a house in Venice Beach. I think they've probably moved offices since then. It all depends on where you are applying.
A few of us sat and watched a PowerPoint about deliveries (less than an hour). We were then given our swag, and were told we had to go ahead and do our first delivery RIGHT THEN. It was a bit traumatic, but probably for the best—thrown into the deep end, so to speak.
The DoorDash job was a pretty fun one overall. I no longer deliver, but I definitely order from DoorDash (PS. click here for a sweet $5 discount on your first order as a customer).
I'd recommend giving it a go as a filler for other part-time jobs—and be sure to sign up via the link below for that DoorDash driver bonus.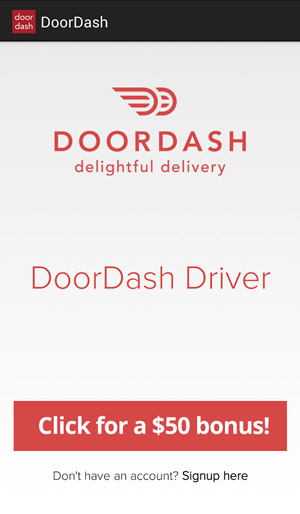 ---
Other Door Dash Jobs:
Account Manager
Business Development Manager
Software Engineer
Payroll Specialist
Launcher
Social Media Lead
Most of these positions are in Chicago, San Francisco, or Phoenix. But you can apply for a Dasher Door Dash job anywhere that DoorDash operates!
---
Be Sure to Use a DoorDash Referral link
Visit DoorDash.com via this link to view the DoorDash Jobs and to score your $50 DoorDash driver bonus!