CouponSuck is supported by readers. By visiting our recommended sites, you support our maintenance and upkeep.
The VNYL subscription is a monthly vinyl record service. At Vnyl org you can pay as little as $22/month for 1 record delivered monthly. The ultra 3 record VNYL price is $39.
---
VNYL Coupon Code
The referral link below works the same as a VNYL coupon code.
Once you become a subscriber, the $10 credit appears in your account. You can then use the credit in their member store. It's a great discount considering records in their store start at $22. So you could easily be paying $12 for a record that you've always wanted, or never knew you wanted until now!
---
What is the VNYL Subscription?


I'm really into records and the vinyl revival situation that's been going on. I've been a subscriber to VNYL's competitor, Vinyl Me Please (see my review here) for ages now. When I heard of the VNYL subscription, I thought it would be exactly the same concept.
I was so wrong!
I mean, yes technically they are sending you a new record every month, in the same way. But the vital difference is that it is curated FOR YOU. That's right—it's a curated record subscription!
On Vnyl org, the first thing you do is create an account. This account can be as detailed or vague as you like. They do encourage you to connect your account to a music service so they can really learn about you.
You can connect accounts from:
Spotify
Twitter
Discogs
Instagram
SoundCloud
Last.fm
Rdio
There is also a survey you can complete about your tastes, and favorite music. You also mention music you absolutely do not like. Then your personal record curator will decide on a record to send you every single month. Curated. Amazing.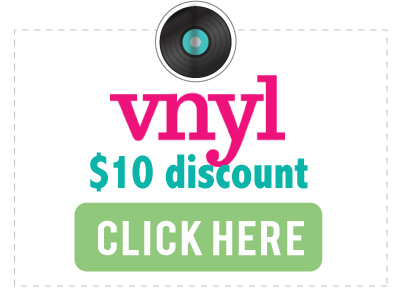 ---
VNYL Price
The VNYL price list is super reasonable. Especially considering a single record from the store costs at least $20, no matter where you go.
1 record a month: $22 including shipping
3 records a month: $39 including shipping
Store: Records start at $22 each. They also sell awesome TRNTBL record players starting at $351.
If you're don't know if you'll enjoy a record subscription, start with the 1 record a month subscription. And if the price tag of their record players is too high, we recommend this $99 Crosley one from Amazon. It's the one we own, and it rocks.
---
VNYL org Discount
Don't forget to score a $10 VNYL org discount from one of the links above!