CouponSuck is supported by readers. By visiting our recommended sites, you support our maintenance and upkeep.
Yogi Surprise is a yoga subscription box that sends fantastic yoga-inspired goodies every month!
---
Yogi Surprise Coupon Code
Get 15% off your yoga subscription box with code JOY15. 
This is a Yogi Surprise coupon code that is unique to Coupon Suck, so you won't find it anywhere else. Get your 15% off—be sure to enter code JOY15 during checkout at yogisurprise.com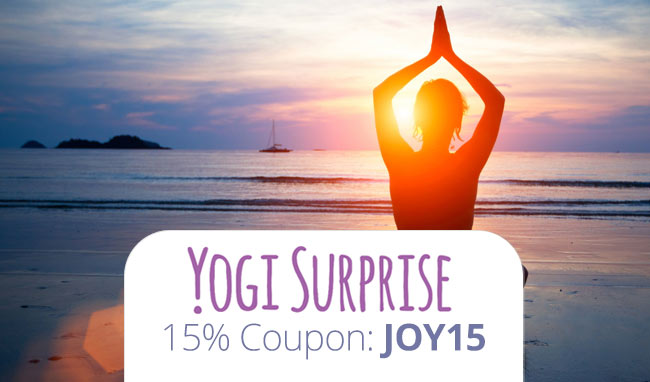 ---
Yogi Surprise Review
As someone who loves yoga and who is highly interested and immersed in the subscription box scene (my favorite one is Fair Ivy), it was probably pretty obvious that I'd be the one doing the Yogi Surprise review, at least of their website and overall concept. I was pretty enthusiastic about it too.
Their site is really cute and easy to use—you can choose from two types of yoga subscription boxes, the Lifestyle and the Jewelry. I really like the idea of the Lifestyle one (at $44.95/month—the jewelry one is only $24.99/month). If you buy either subscription, be sure to use the awesome little Yogi Surprise coupon, JOY15, to snag a 15% off discount. Wahoo!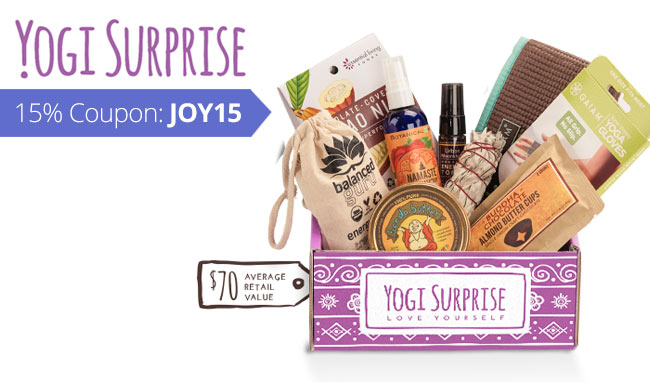 I haven't yet ordered, but from what I can see the products are all very in-line with yoga vibes—eco-friendly, great items for personal care, great aesthetics, and overall wonderful products.
They say that the value of each box is over $70, and it looks like that is pretty much true. The boxes are nice and full, and while not every single product is something I definitely would use, the majority look like they would be, and the remaining items would make great gifts for friends or family.
I would be very intrigued to hear about someone's experience getting the Yogi Suprise jewelry subscription—if you've received that please be in touch and we'll add your review to ours!
Want to check out Yogi Surprise? Visit yogisurprise.com and use the code JOY15.