CouponSuck is supported by readers. By visiting our recommended sites, you support our maintenance and upkeep.
Wet Shave Club is a subscription for all your shaving needs. Receive a box of shaving soap and razors, monthly!
---
Wet Shave Club Coupon Code
Get $10 off your first box of monthly shaving supplies! Visit WetShaveClub.com.
---
Wet Shave Club Review
If there's one thing I love more than on-demand apps, it's packages in the mailbox.
I haven't yet purchased this one, but from what I've seen online it's pretty cute—the box is nicely packaged, and the items are a fun selection. Most of the items are sample-sized, which would work for me to figure out what I like. From friends I've heard that the razors were a good quality, and knowing that I'd be getting a new set in a month means I wouldn't ever have to worry about them getting dull.
It looks like it's pretty easy to cancel too, so when I do sign up I'll probably do so for a few months until I have tried a nice range of products, then cancel and buy some full-sized (which you can do from their store, and the Wet Shave Club Coupon IVY10 should work for that too).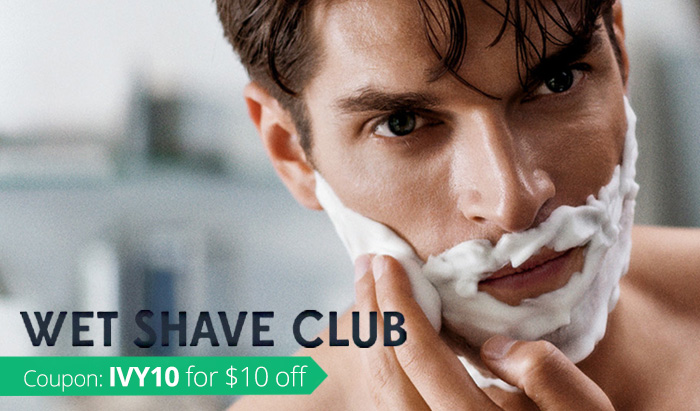 Here's how Wet Shave Club works:
Head on over to Wet Shave Club and sign up for an account
Enter Wet Shave Club coupon code IVY10 for $10 off
Choose a Women's or a Men's box
Enter payment details
That's it! You should receive your first box within about a week.
They ship all over the world—it's free within the US (woohoo), $5.99 to Canada (not too rough), and $13.99 to the rest of the world (ouch, unless you are super super into monthly shaving boxes).
So if you're in the US, this subscription box is definitely worth a try!