CouponSuck is supported by readers. By visiting our recommended sites, you support our maintenance and upkeep.
Wedding Paper Divas has a huge selection of gorgeous wedding invites, save the dates, thank you letters, and more accessories for your perfect wedding.
---
Wedding Paper Divas Coupon Code
Get 25% off your first order when you visit this link.
As mentioned above, this 25% discount comes in the form of a link—but when you click it, you'll be taken to WeddingPaperDivas.com and a popup will show you a custom coupon code that you can input in checkout. It's part of their fancy refer-a-friend program.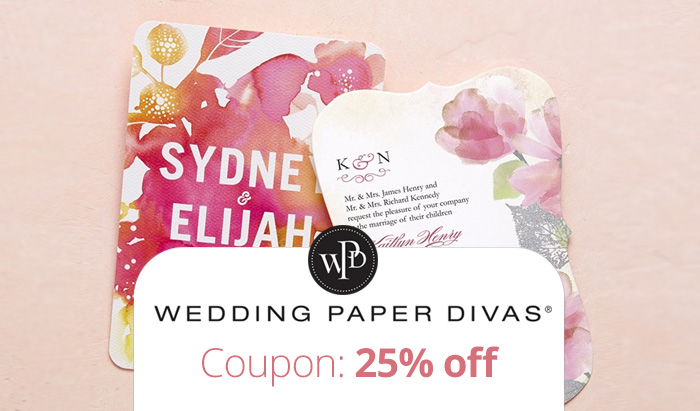 Wedding Paper Divas Review
I recently did a post on Tiny Prints, which is a site that sells quite similar things (and is also a daughter company of Shutterfly). But I like to review them all (even if it's just superficially), so here is my Wedding Paper Divas review! Upfront note: I never purchased goods from them, I just reviewed their site and other reviews of their product quality.
So first off, I love love love the way WPD looks when I first get to their site. I mean, first off, the first thing you see if you use this coupon code link is that 25% off promo code, which is amazing. But then after that, everything is just so damn elegant, yet modern.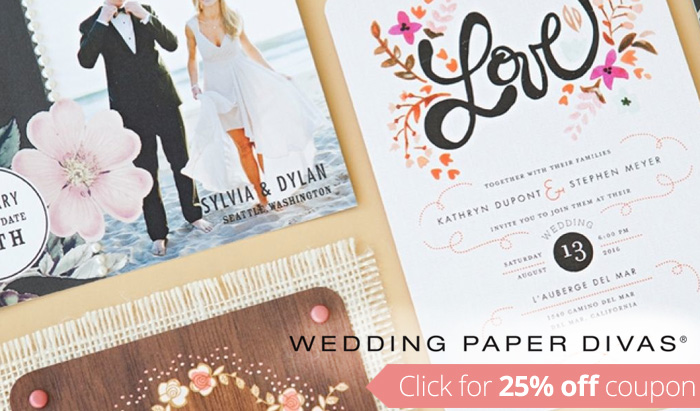 And they have so many different styles to choose from, and then they have ALL the products you'd ever need, in that particular style. Looking for a hipster-themed wedding? They're on it. Want something cutesy? Done. Elegant and timeless? No one does it better.
Overall I found a trillion things I loved at Wedding Paper Divas, and was almost overwhelmed by the choices. But if you need help, they have an inspiration section that will help you narrow your dreams down to focus on the ones that are perfect for you and yours.
Lovely things you can buy on WeddingPaperDivas.com :
Wedding Invites
Save the Date
Bridal Shower items
Bachelorette party items
Day of Items—Place Cards, napkins, Menus, etc
Thank You cards
Favors and Gifts
Overall WeddingPaperDivas is a great place for all your wedding needs—check it out by visiting here (and receive that 25% off coupon code). And if for some reason you can't find what you want, check out Tiny Prints for everything else!