CouponSuck is supported by readers. By visiting our recommended sites, you support our maintenance and upkeep.
Transfergo lets you send money online with extremely low fees—and NO fee for your first transfer. Get a free transfer with the TransferGo Coupon HzJyKq.
---
TransferGo Coupon for a FREE Transfer
Get a FREE money transfer when you sign up via this referral link.
Make sure you first create an account via this TransferGO free transfer referral page—THEN start trying to make your transfer. Otherwise you won't qualify for the free transfer!
---
TransferGo Review: TransferGo UK Money Transfers
This is a toughie, because I've always been a big TransferWise supporter—they are, hands down, my favorite money transfer place, and it would take a lot to change that (if you haven't check them out first—do it now. They offer a FREE transfer also, via this link).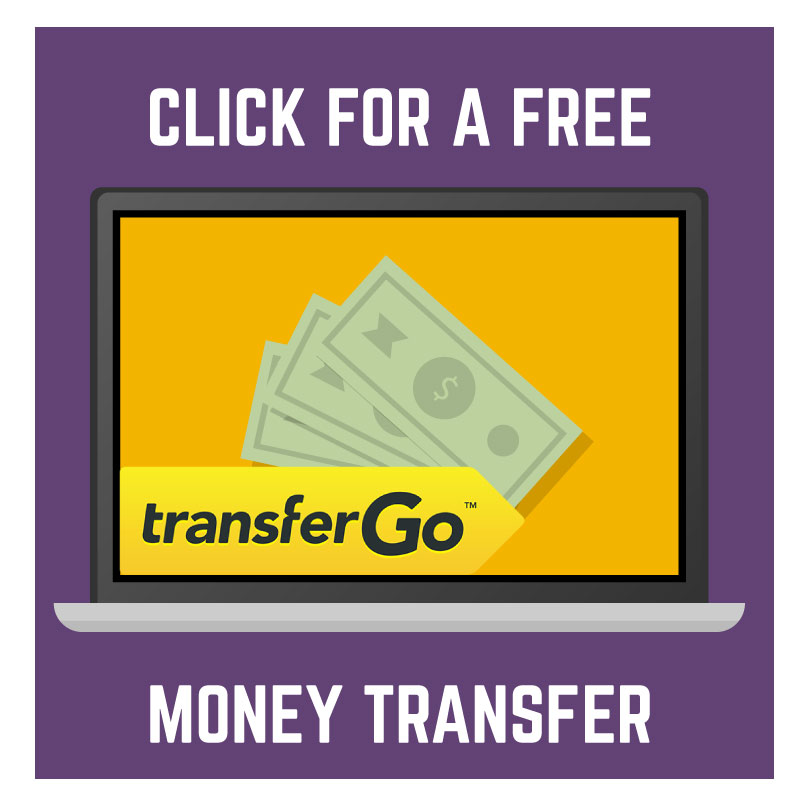 But anyway, I had TransferGo review but didn't have to send any money at the time. So I did a mock walk-through of their process. This is specifically a review of TransferGo UK money transfers, as that's the walkthrough I did (you can also do Ukraine money transfers with them now!).
To start, the site is really clean and easy to understand. The homepage already has a space for you to start entering your money transfer details, and it shows your right upfront about the TransferGo fees. I noticed right away that for transferring £5000 from the UK to the US, the fee is only $0.99! Secondly, the exchange rate is not inflated at all—it was the literal current exchange rate. To me it looks like TransferGo gets their profit simply from the tiny transfer fees (of $0.99 in this case), and they must just rely on a high volume of people doing money transfers. Which is awesome for me—low fees are key!
After this, you go through and enter the sending and receiving bank details, verify your identity, and you're done! The money is delivered within a few days to the receiving bank account, and you're happy as Larry.
Voila! Don't forget the TransferGo Coupon deal)!
---
TransferGo Refer A Friend Program: Earn £20 for Each Friend!
So, this is the best part—with the TransferGo Refer a Friend Program you can earn £20 in cash, every time a friend you refer signs up and completes at least a £50 transfer. There's no limit to the amount you can earn, and you can share your referral link via email or social media very easily.
So start spreading the word! Use this link for a FREE transfer.