CouponSuck is supported by readers. By visiting our recommended sites, you support our maintenance and upkeep.
SprezzaBox is a men's fashion subscription box. Get 10% off your first order when you sign up via this link and use the Sprezzabox discount code TOPDOWN.
---
SprezzaBox Discount Code
Get 10% off your first box, or 10% off your entire store order when you visit via this link and entering the code TOPDOWN at checkout.
Let us know in the comments at the bottom how much money you were able to save by using our SprezzaBox discount code.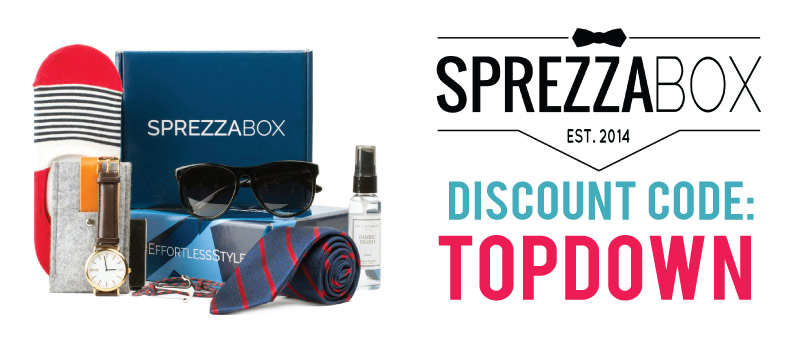 ---
What is SprezzaBox?
SprezzaBox is a monthly men's subscription box. Items inside are focussed on men's fashion, with a dapper vibe. Each box is guaranteed to be worth over $100. Items that you might find inside are socks, bow ties, regular ties, pocket squares, tie clips, cufflinks, and lapel pins. Sometimes I've seen things like sunglasses and some skin care products. But the main focus is on fashion accessories for wearing with a nice suit.
Pricing starts at $25/month. But you can get 10% off your first month when you click this link and use the the SprezzaBox promo code TOPDOWN.
---
SprezzaBox Competitors

SprezzaBox isn't the only company in the dapper men's marketplace right now. We overview a few other awesome ones below.
The Gentleman's Box is very similar to Sprezza, but also has a bit more of a grooming component. Inside a box you'll find things like unique socks, bow ties, and beard products. Get $5 off your first month's box when you click here.
A high-end gentleman's subscription box. Each box has a different "gentleman's theme". For example, a recent one was the theme "Churchill". Boxes start at $45/month. Visit BespokePost.com.
NeckTiePhoon
A monthly classy tie subscription box. For $22.50/month, get a single new tie delivered to your mailbox.  Visit NeckTiePhoon.
---
SprezzaBox Promo Code
Don't forget to use our SprezzaBox promo code TOPDOWN to get 10% off. Sign up for a new subscription here.