CouponSuck is supported by readers. By visiting our recommended sites, you support our maintenance and upkeep.
Shyp is the easiest way to ship anything. The mobile app provides an easy on demand shipping experience. Use the Shyp Promo Code ZR2E2AS to get $5 off your first shipment.
---
Shyp Promo Code
With the exclusive Shyp promo code ZR2E2AS you can send a little something for free. Be it a care package to a friend, or a birthday present to your mom. I've even just shipped little candies to a friend who I feel like needs a pick-me-up. Shyp takes so little effort, I had no excuse not to become a shipping maniac.
---
My Shyp Review
I'm a huge fan of the on-demand apps, and definitely not a huge fan of the post office. So when I first heard of Shyp I instantly jumped on board. They even opened up in LA with a crazy $1 ship-anywhere deal (sadly finished now), so I gave it a whirl.
I opened the app and took a picture of what I'm sending (unwrapped). Then I entered my ship-to address and clicked "pickup".
It was just like calling an Uber—you can even see where the Shyp guy is on your phone as he moves towards you. The GPS is a little less smooth than with Uber, so he'll sorta jump, block by block, but that didn't really bother me. UPDATE: This jumpiness is now fixed. Overall the time to get to me was around 20 minutes. I've done it multiple times since then and it's always between 15-30 minutes. If their little car icon takes a second to get moving, don't panic. They are not necessarily at their car right when you call them.
The Shyp guy will actually come all the way up to your door and ring the bell, but I met him on the curb. Mainly because my apartment door is tricky to navigate to, plus we have 2 large dogs. I handed him my item (still unwrapped) and he put it in a nice temporary Shyp baggie. Then he scanned it into the system and whisked it away.
Within ten minutes I'd received notification of the pickup scan. Within 24 hours I'd received tracking information and a final cost.
---
Shyp Pricing
You can do a cost estimate in the app. It's basically the same price, or cheaper, than shipping at FedEx or USPS. They do charge a $5 pickup fee, but you can send up to 10 items at a time, all for $5 total. It ends up being about the same cost overall as going to the post office, or maybe $1 more. Totally worth not wasting an hour doing a post office run. They do charge for packaging if you haven't done it yourself already, but it is minimal.
Overall, I highly recommend trying Shyp! Click here to sign up and get $5 free with Shyp promo code T4QB7791.
https://www.youtube.com/watch?v=DheulkmtR7Y
How to try the Shyp App for on-demand shipping:
Open the app and create an account
Add the Shyp promo code ZR2E2AS to the Promotions section in the menu, for $5 off your first order.
When you're ready to send something—don't package it up, or do anything at all on your end!  Simply click "Send Something" in the app.
Enter the address you're shipping to and snap a quick photo of what you're shipping
Select "Pickup Now"
Within 15-30 minutes a Shyp Hero will be at your door. They'll wrap your item up temporarily for the car journey to their warehouse. Then it will be VERY carefully wrapped and mailed via the most cost-effective method. You'll receive tracking on the item within 24 hours.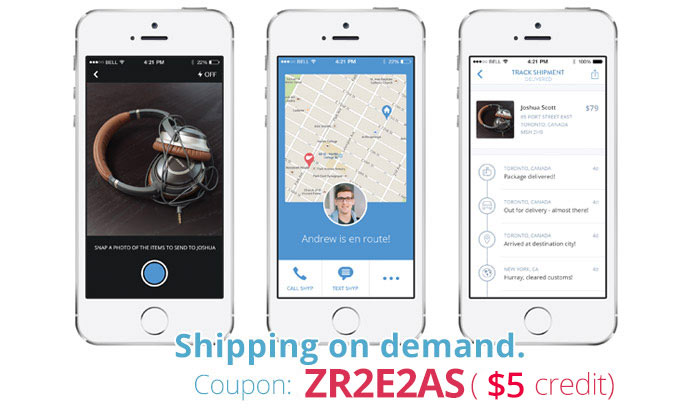 You'll be giddy the firs time you try it, it's that easy. You can forget packaging and waiting in post office lines—forever. Shyp picks up your items, packs, and sends them anywhere in the world using the lowest cost option.
---
Shyp is currently serving
They're expanding quickly. If they're not in your neighborhood yet, head on over to Shyp.com to sign up for a notification once they arrive. Trust me, it's worth it.
Check out this quick preview of the app, or download on the iTunes store for free.
---
How Does Shyp make money?
I'm always suspicious when things seem too good to be true.
So here's how it works: Shyp has a specialized packaging process which eliminates ALL space from a container, saving money on the excess dimensions that we'd normally ship with. Additionally, they have discount deals with USPS and UPS. So the price that we, as the customer, are paying—is exactly what you'd be paying at the post office, and sometimes even less. Shyp makes their money through small margins that us normal folk wouldn't normally be able to save on anyway.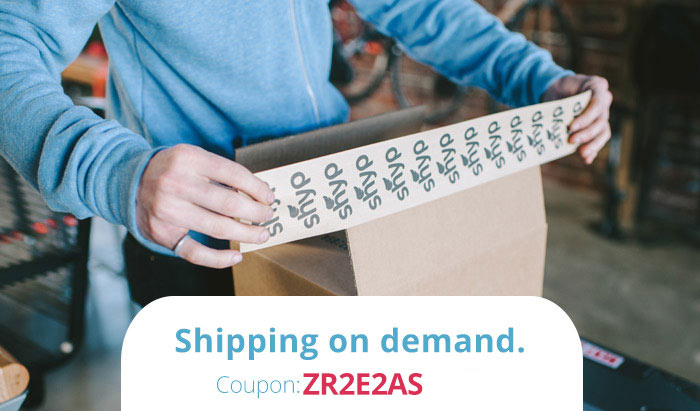 So go on, give it a try—the first shipment's free up to $5 anyway with the Shyp Promo code ZR2E2AS. I promise you'll never look back, and never step foot inside a post office again (I'm just waiting for a DMV-on-demand service now, and my life will be complete). I promise you'll never look back, and never step foot inside a post office again (I'm just waiting for a DMV-on-demand service now, and my life will be complete)!