Pangea Mexico lets you complete quick, easy and inexpensive money transfers. Plus, get a $25 bonus with the Pangea Promo Code LF6121.
Get $25 Free With Our Pangea Promo Code: LF6121
Get $25 Free With Our Pangea Promo Code: LF6121
---
Pangea Mexico: $25 Pangea Money Transfer Promo Code
To use the Pangea Mexico promo code, start entering your transfer details. On the final page there will be a Pangea promo code box. In that box enter the code LF6121 and you'll see your $25 bonus appear in the receipt.
CouponSuck is supported by readers. By visiting our recommended sites, you support our maintenance and upkeep.
---
Pangea Money Transfer Payments: How it Works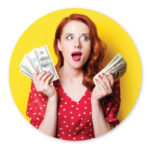 The Pangea Payments site is ideal for sending money abroad. It was originally just Pangea Mexico. However, they've how expanded to Guatemala, El Salvador, Dominican Republic and Columbia. It's easy to enter your payment details, see conversion rates, and specify money pickup locations.
The transaction fees are low, plus there is a Pangea Mexico discount code LF6121 for a $25 bonus. You will receive an extra $25 bonus on top of whatever you are already sending!
To start, enter your phone number, name and address. You'll then select the amount of USD you'd like to send. Your recipient can receive the money either as a cash pickup (at a bank, usually). Alternatively, it can be deposited in their bank account or on a debit card. You can send the money via any valid debit card.
Pickup will be available quickly, and you'll receive your $25 bonus when it's completed!
---
Pangea Money Transfer: Refer a Friend Program
Once you've completed a Pangea Money transfer, check out their Refer a Friend program. With it, you can share your Pangea coupon code with friends and family to give them a $25 bonus. Plus, each time they use it, you personally get a $25 cash bonus. What could be better?
Be sure to get started by using our own Pangea discount code LF6121. Then feel free to comment below and share your own!
---
Pangea Money Transfer Discount Code
Don't forget to use the Pangea Money transfer discount code LF6121 for a $25 bonus on your first Pangea Payments transfer!