CouponSuck is supported by readers. By visiting our recommended sites, you support our maintenance and upkeep.
Greenly is a medical marijuana delivery service. Buy online and have your products delivered immediately! NOTE: NO Discount exists at the moment. Try using Eaze instead and get a $60 credit via this link.
---
Greenly Coupon Code
The Greenly coupon code is no longer available. Use another weed delivery service for a discount, up to $200 in coupons on WeedSuck.com.
---
Greenly Review
I do a lot of on-demand weed delivery reviews. Like, a lot (you can view them all here). I'm the go-to guy for whats-what in the weed delivery industry, at least in Los Angeles. If you want to buy weed online, ask me how.
That being said, I haven't yet actually purchased from Greenly. But I love what I've heard, and what I can see. I mean, check out their website. It's so well organized! They break things down by flower type, vape, concentrates, edibles, tinctures, and topicals. So you know exactly where to go from the very first second you are on their site. So the website gets an A+.
The other thing I really love about Greenly is their Daily Deals. Every day of the week features a single product type at 10% off. So if you're organized and know exactly what you want, just roll on over to their site on the right day and bam!
One downside to Greenly is that they don't give out doctor's recommendations on-site. However, they recommend Leafly for that, so it isn't too complicated if you need to acquire one. UPDATE 11/19/16: Greenly now offers the ability to get a Doctor's Rec via a partnership with HelloMD. It ends up being $39 (with their $10 discount).
I LOVE that they offer real-time tracking on deliveries. Other places give you an estimate, but Greenly lets you track your driver, like you would on the Uber app. It's really fun and useful!
In terms of their actual products, I found that in many aspects Greenly has more options than other weed delivery services around. I think it's probably because Greenly is a collective. So here is a lot of emphasis placed on not only quality, but the community of the medical marijuana industry. Plus, all their packaging is eco-friendly and recyclable. It's cute. And fantastic.
---
Where Greenly delivers in Los Angeles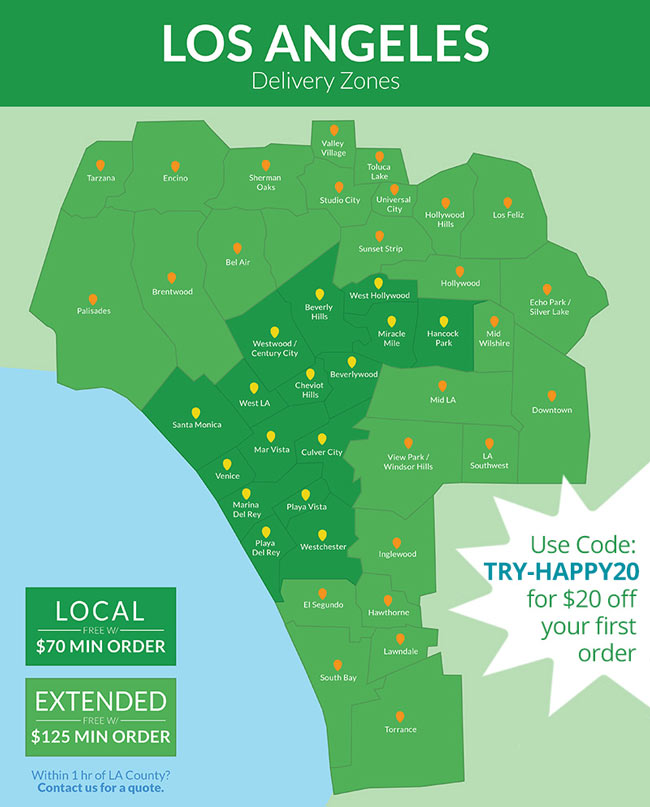 ---
Did you know? There are other weed delivery services that also have rocking promo codes at the moment. You can get OVER $200 in FREE Weed. 
Use the locator below to find out the coupons and companies available in YOUR zip code:

If you can't view the zip code box above (sometimes on mobile), click here.