Graze snacks is a subscription services that mails mini, sample-sized snacks every week.
CouponSuck is supported by readers. By visiting our recommended sites, you support our maintenance and upkeep.
---
Graze Free Box Code link!
Get your first box FREE by clicking this link ($12 value).
This Graze Free box deal works via a referral link. So click here to activate it (there is no Graze promo code per se, it's just the link)! Your Graze.com free box code will apply during checkout. You'll get a totally FREE 4 snack sampler box.
---
Our Graze Reviews
From James:
I tried out Graze for a couple of weeks. I'm a bit pickier of a snacker, so it wasn't as crazy awesome for me as it was for some people I spoke to. When I snack, I know what I want to snack on. So getting a random assortment wasn't really what I want in a snacking experience.
That being said, in terms of how the individual snacks were, some were great and the others were pretty good. But like I said—I know what I want, and a snack surprise isn't really my thing. But I definitely thought it was worth it for the free week. Cute packaging, too.
(Note: If you're ok to wait and get a surprise monthly, I'd recommend a subscription more like Fair Ivy. They send one handmade luxury gift for women each month. More high-quality items, less often.)
To summarize: Graze was good fun, yummy little snackies. Fun packaging each week, and a good talking point around the workplace if you send it to work. But if you know what you like to eat, just buy your own stuff.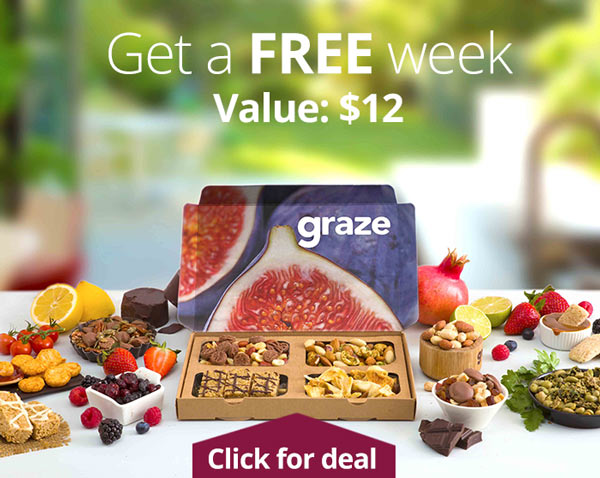 ---
Steps for using Graze Snacks
Head on over to the site, via the Graze free box link
Enter your details
Graze snacks will then let you either select the type of snacks you like. You can be general, like "Savory" or "Sweet", or you can literally hand-pick what sounds good and what doesn't.
Finish checkout, and sit back and relax! Wait for the snacks to appear.
---
Don't forget the Graze Promo Code
Get your first box FREE by clicking this link ($12 value)