CouponSuck is supported by readers. By visiting our recommended sites, you support our maintenance and upkeep.
The Gentleman's Box is a unique subscription just for men. Get $5 off your first month's box when you click here.
---
Gentleman's Box Coupon Code
We have access to a special Gentleman's Box Coupon Code worth $5. Access the discount by clicking here.
At a normal $25 per month, the $5 discount ends up being 20% off. Not too shabby! You can also get an entire month free when you pay upfront for an entire year (vs. month to month).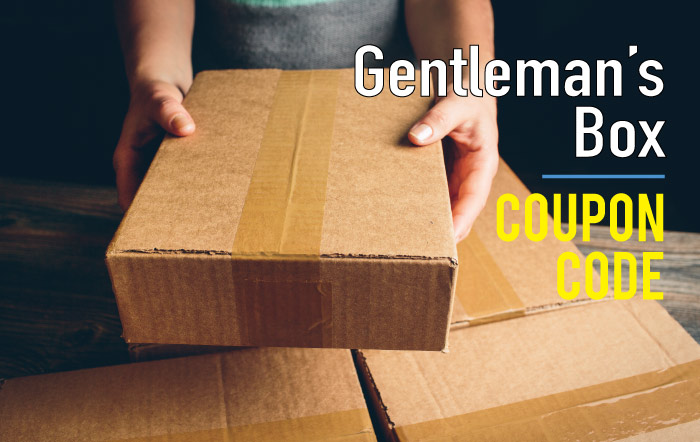 ---
What is in a Gentleman's Box?
The concept behind the Gentleman's Box is a fun one. It's made for men of all ages who like to keep stylish and well-groomed. Every box contains items to keep you looking good. Each box will include fashion accessories like bow ties, socks and sunglasses. It will also include grooming products/supplies, for maintaining your hair, beard or killer mustache. And maybe something to keep you smelling nice, too.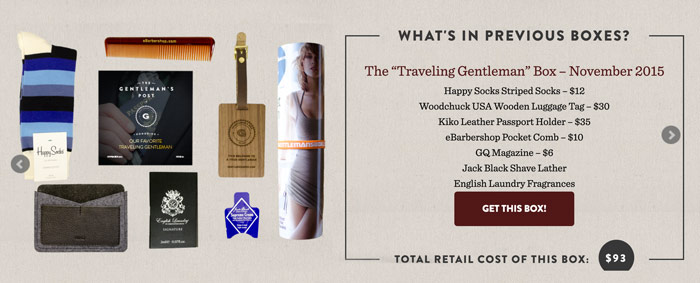 ---
Other Subscriptions for Men
We are big into subscription boxes (our favorite ones are listed on this page). But in the past we've often focussed on women's subscriptions. Here are some great ones to buy for yourself or another dude in your life.
A bi-weekly meat box. Of beef, chicken and/or pork. Grass-fed, and shipped straight from the farm to your home. Get that grill started and check them out here.
A badass nerd subscription box. If you know a guy who dies when they hear someone mix up Star Wars and Star Trek, this is the box for them. Includes awesome geekery, video game gear, and more. Check them out here.
This one is the most like the Gentleman's Box subscription. It's a tiny bit more sophisticated, so is probably best for older gentleman, or young men who are meant to be found smoking a cigar in an old-fashioned parlor. Check it out here.
A men's style box, similar to Bespoke. Costs $28/month. Get 10% off with the code TOPDOWN. Check it out here.