Geek Fuel is a gamer subscription box that sends awesome gamer gear to you monthly. Click here to get $3 off your subscription—it's our own unique Geek Fuel coupon code link!
CouponSuck is supported by readers. By visiting our recommended sites, you support our maintenance and upkeep.
---
Geek Fuel Coupon Code: Get $3 off!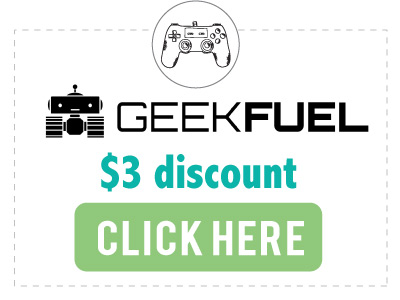 First off, that Geek Fuel discount deal. Click here to get $3 off your subscription. Discount will automatically apply when you visit through that link.
---
About the Geek Fuel Gamer Subscription Box
I'm a little bit super into video games. So I was really excited when I heard about the Geek Fuel gamer subscription box. I've perused their site plus Geek Fuel reviews I found online. I also checked out tons of photos of previous boxes, and here's what I found.
Geek Fuel Pricing
This is surprisingly one of the cheaper subscription boxes on the market. Starting at only $13.90/month (when you sign up for a year), you get a lot of bang for your buck. All boxes are guaranteed valued at over $50. Every single one will always include a T-shirt (in your size), and 5-8 "epic items".
Pricing goes up to $17.90/month when you subscribe on a month-to-month basis. Beyond the price cut incentive, there's another reason to get a 6 or 12-month subscription. They throw in BONUS items.
And don't forget to sign up with this link to get $3 off your first month.
Geek Fuel Content
My Subscription Addiction is a great source for reviews of all kinds, including extensive Geek Fuel reviews. From what I'm seeing, the boxes are always really retro and colorful.
Next, there's an information card on the top that describes everything in your box. You'll find your sweet-ass t-shirt right away. For example, August 2016's box included a badass Transformers shirt. Other recent ones were Ghostbusters, Xmen, and Deadpool.
You'll also get a gamer magazine with news, interviews, and stories. At least one of the items in the box is usually some sort of figurine or fun prop item. They've also included things like a Nintento cartridge cutting board, bags, a Dr. Who shower curtain (aahhhh!), and all kinds of cool artwork.
Overall this box has to be one of the most amazing, unique and inexpensive ones on the market. It's definitely DEFINITELY worth giving a go, at least for a couple of months.
---
Once again, that Geek Fuel Discount Code Deal
Don't miss out on the $3 Geek Fuel discount code deal by clicking here. It's the highest discount they offer!