CouponSuck is supported by readers. By visiting our recommended sites, you support our maintenance and upkeep.
Circle Pay lets you easily send money between friends. Plus, get a $5 bonus when you sign up and use the Circle Pay promo code U42PTG.
---
Circle Pay Promo Code
To get a $5 bonus, be sure to enter the Circle Pay promo code U42PTG. If you click on the Settings gear icon, you'll see a section called "Promo Codes". In that section you can enter this code to get the bonus.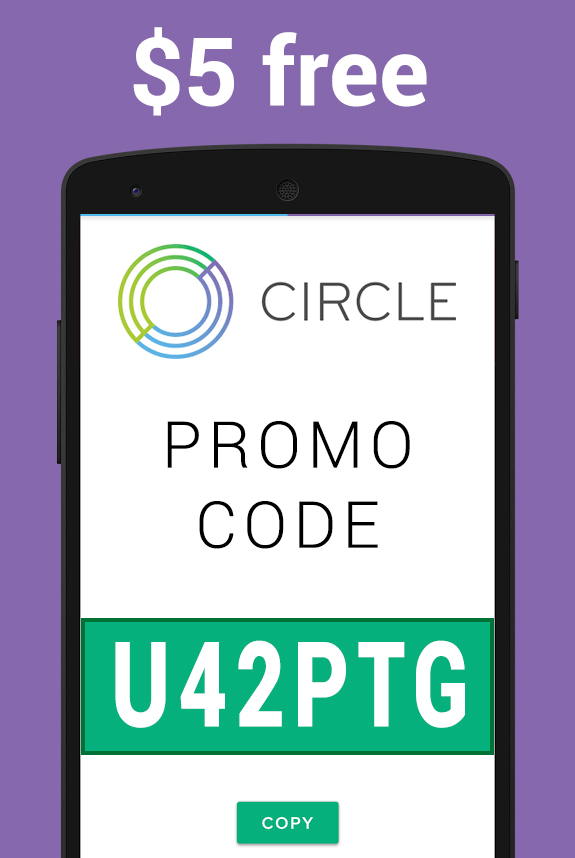 Did you know? You can also earn additional $5 bonuses if you refer your friends with your own Circle Pay promo code. To find out what yours is, click on the Friends section and connect your contacts. Then you'll see a screen that says "Invite Friends, Get $5". Click on that and you'll see your own promo code link, and the last 6 digits at the end are your promo code.
---
What is the Circle Pay App?
If you've ever tried apps like Venmo or Paypal, then the Circle Pay app won't be too unfamiliar to you. One great thing is that the Circle App works across the world, and won't charge you extra to send money from one currency to another. And sending money appears in the form of a conversation, so it feels more casual. You can send images, gifts and just text along with your cash. Pretty cool!
---
Competitors to Circle Pay (and their bonus codes)
We really like the simplicity and cost (free) of using Circle Pay. That being said, there are some other apps that are somewhat similar to Circle Pay.
Try Square Cash and use the promo code SSFWPRH to get a $5 free bonus.
The Lenny App is one way to transfer money between friends, all while building your credit. Really great for students without credit cards! Use the code REF9L07D6N to get a $5 bonus.
If you are into the idea of using Bitcoin, try using Coinbase to send money (via Bitcoin) between friends. Plus, use the Coinbase promo code link here to get $10 in free bitcoin.